Erin S. Groover, DVM, DACVIM-LA
Clinical Professor, Equine Internal Medicine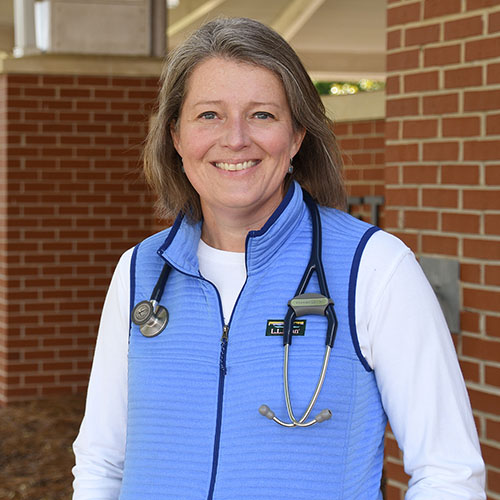 Contact
334-844-4490
esg0001@auburn.edu
Department of Clinical Sciences

Auburn University
College of Veterinary Medicine
1130 Wire Road
Auburn, AL 36849
Education
DVM, University of Georgia, 2001
BS, University of Georgia, Biology, 1997

Biography
Dr. Groover is a life-long horsewoman and native of the Southeastern United States. She attended the University of Georgia for her undergraduate education where she completed both a Bachelor of Science degree in Biology as well as her Doctorate of Veterinary Medicine. Following completion of her DVM degree, she pursued additional training to become a specialist in large animal internal medicine. She completed both an internship and residency at the UGA College of Veterinary Medicine and achieved diplomate status in the American College of Veterinary Internal Medicine in the specialty of Large Animal Internal Medicine in December, 2005.
After completion of her residency, she worked as a Clinical Instructor of Equine Internal Medicine at Washington State University before coming to Auburn University in May 2007. Her role at the Auburn University College of Veterinary Medicine is primarily focused on providing clinical service to clients and their horses at the Vaughan Large Animal Teaching Hospital, as well as teaching veterinary students and overseeing hospital operations for the Equine Section. She has a special interest in the diagnosis and treatment of equine gastrointestinal, lower respiratory, and renal diseases, but enjoys all aspects of equine internal medicine.
Dr. Groover is an active member of the American College of Veterinary Internal Medicine (ACVIM), the American Association of Equine Practitioners (AAEP), and the American Veterinary Medical Association (AVMA).
When not in the clinic, Dr. Groover enjoys traveling, hiking, and spending time with her retired sport horse and her very energetic dog.
Research Interests
Dr. Groover's research endeavors are focused on advancing clinical equine medicine by making a meaningful, positive impact on the diagnosis and treatment of horses through investigation of clinically relevant research questions. She frequently collaborates with her colleagues within the Auburn University Large Animal Teaching Hospital, as well as colleagues at other institutions.
Publications and Links