Laura Huber, DVM, MSc, PhD
Assistant Professor of Epidemiology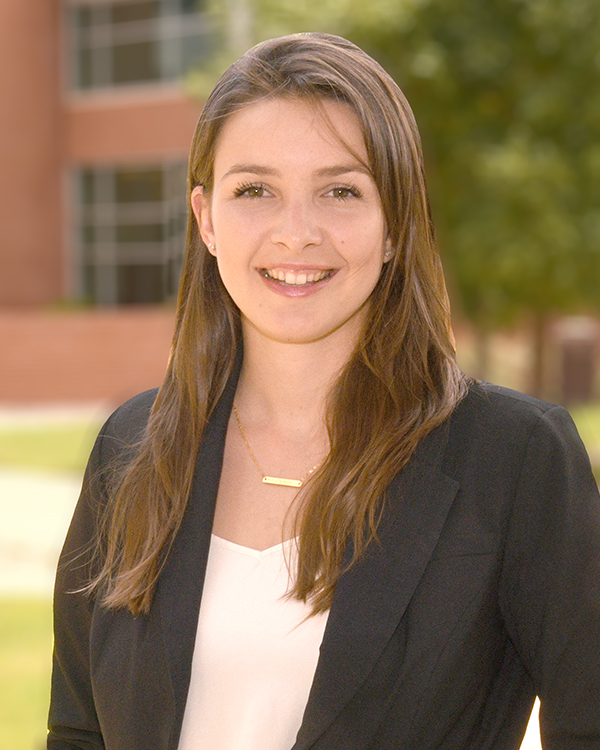 Contact
Department of Pathobiology
Auburn University
College of Veterinary Medicine
1130 Wire Road
Auburn, AL 36849
Education
PhD, Department of Large Animal Medicine, University of Georgia, USA. Focused on molecular epidemiology of antimicrobial resistance
DVM, Federal University of Santa Maria, Brazil
MSc, Federal University of Rio Grande do Sul, Brazil
Biography
Dr. Huber received her DVM from the Federal University of Santa Maria in the south of Brazil in 2012, her MSc in the Federal University of Rio Grande do Sul in 2017, and her PhD at University of Georgia in 2019.
After graduating as DVM, she has worked as a resident veterinarian at a horse breeding farm, and as a field veterinarian focused mostly on dairy cattle management. She completed a fellowship program at Hagyard Equine Medicine Institute in Lexington Kentucky in 2014, where she worked in equine medicine and neonatology.
She moved to Zurich, Switzerland in 2020 for a postdoctoral program at ETH, where she focused on understanding the spatial epidemiology of antimicrobial resistance spread in foodborne pathogens.
In January 2021, Dr. Huber joined Auburn University as an assistant professor of epidemiology at the Department of Pathobiology, College of Veterinary Medicine.
Research Interests
Her molecular epidemiology laboratory located at Greene Hall 251E is focused on understanding contribution of the animal-human-environment interactions on the spread and maintenance of antimicrobial resistance. At her lab, her group explores the effects of policies to reduce antimicrobial use in the food- and companion- animal industries on development of resistance in the environment and the potential of human contamination with resistant pathogens. They use a molecular, epidemiological, socio-economical approach to understand the global implications of antimicrobial resistance in animal, human, and environmental health.
Selected Publications
Huber, L., Agunos, A., Gow, S. P., Carson, C. A. & Van Boeckel, T. P. Reduction in Antimicrobial Use and Resistance to Salmonella, Campylobacter , and Escherichia coli in Broiler Chickens, Canada, 2013–2019. Emerg. Infect. Dis. 27, 2434–2444 (2021).
Huber, L. et al. Geographic Drivers of Antimicrobial Use and Resistance in Pigs in Khon Kaen Province, Thailand. Front. Vet. Sci. 8, 659051 (2021).
Huber, L. et al. Epidemiology and Molecular Basis of Multidrug Resistance in Rhodococcus equi. Microbiol. Mol. Biol. Rev. 85, e00011-21, /mmbr/85/2/MMBR.00011-21.atom (2021).
Huber, L. et al. Association between antimicrobial treatment of subclinical pneumonia in foals and selection of macrolide- and rifampicin-resistant Rhodococcus equi strains at horse-breeding farms in central Kentucky. J. Am. Vet. Med. Assoc. 258, 648–653 (2021).
Tiseo, K., Huber, L., Gilbert, M., Robinson, T. P. & Van Boeckel, T. P. Global Trends in Antimicrobial Use in Food Animals from 2017 to 2030. Antibiotics 9, 918 (2020).
Huber, L. et al. The novel and transferable erm(51) gene confers macrolides, lincosamides and streptogramins B resistance to clonal Rhodococcus equi in the environment. Environ. Microbiol. 22, 2858–2869 (2020).
Huber, L. et al. Prevalence and risk factors associated with emergence of Rhodococcus equi resistance to macrolides and rifampicin in horse-breeding farms in Kentucky, USA. Vet. Microbiol. 235, 243–247 (2019).
Huber, L. et al. Identification of macrolide- and rifampicin-resistant Rhodococcus equi in environmental samples from equine breeding farms in central Kentucky during 2018. Vet. Microbiol. 232, 74–78 (2019).
Huber, L., Giguère, S., Berghaus, L. J., Hanafi, A. & Ryan, C. Fecal shedding of Rhodococcus equi in mares and foals after experimental infection of foals and effect of composting on concentrations of R. equi in contaminated bedding. Vet. Microbiol. 223, 42–46 (2018).
Huber, L. et al. Emergence of resistance to macrolides and rifampin in clinical isolates of Rhodococcus equi from foals in central Kentucky, 1995 to 2017. Antimicrob. Agents Chemother. 63, e01714-18, /aac/63/1/AAC.01714-18.atom (2018).
Huber, L. et al. Development of septic polysynovitis and uveitis in foals experimentally infected with Rhodococcus equi. PLOS ONE 13, e0192655 (2018).
Huber, L. et al. Monitoring foals by thoracic ultrasonography, bacterial culture, and PCR: Diagnostic of Rhodococcus equi subclinical pneumonia in south of Brazil. J. Equine Vet. Sci. 60, 104-108.e1 (2018)
Thesis:
Huber L. Monitoramento de potros por ultrasonografia torácica, cultura bacteriológica e pcr: diagnóstico de infecção subclínica por Rhodococcus equi. Master in Equine Medicine Thesis, Universidade Federal do Rio Grande do Sul, 2016.
Dissertation:
Huber L. Epidemiology and Genetic Mechanisms of Macrolide and Rifampicin Resistance in Isolates of Rhodococcus equi at Horse Breeding Farms in Kentucky. PhD in Comparative Biomedical Sciences, University of Georgia, 2019.
Check out my CDC podcast talking about the effects of reducing antimicrobial use on resistance in broilers in Canada https://tools.cdc.gov/medialibrary/index.aspx#/media/id/427453
Link for Research Gate
https://www.researchgate.net/profile/Laura-Huber-10

Link for ORCID
https://orcid.org/0000-0002-5138-0336