James G.W. Wenzel, DVM, PhD, DACT, DACVPM (Epidemiology)
Professor Emeritus, Food Animal Theriogenology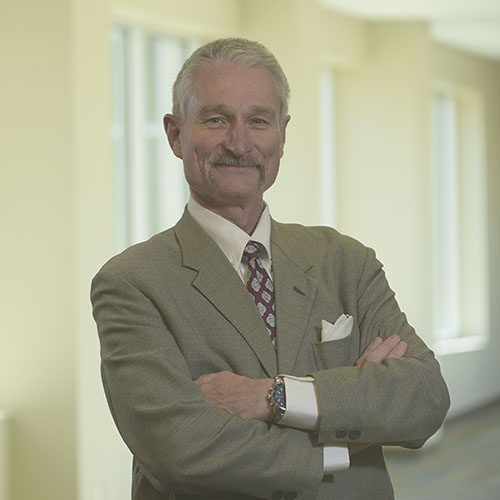 Contact
Department of Clinical Sciences

Auburn University
College of Veterinary Medicine
1130 Wire Road
Auburn, AL 36849
Education
PhD, University of Minnesota, 1990
MS, University of Georgia, 1986
DVM, Auburn University, 1982

Biography
Dr. Jim Wenzel was born, raised and practiced near Paducah, Ky. He studied at Sewanee, Paducah, and Murray State before receiving his DVM from Auburn in 1982, and residency training and graduate degrees from the University of Georgia (M.S., 1986) and the University of Minnesota (Ph.D., 1990).
He maintains Diplomate status in the American College of Theriogenologists and in the American College of Veterinary Preventive Medicine, in which he is also a member of the Epidemiology Specialty. He currently serves as professor in the JT Vaughan Large Animal Teaching Hospital, and maintains Level 2 Graduate Faculty status. He has authored or co-authored over 45 refereed or invited articles and 14 book chapters and technical reports.
In 2001, Dr. Wenzel served in the foot-and-mouth disease eradication campaign in the United Kingdom. He has also served as an instructor in Agricultural Emergency Response Training at the Center for Domestic Preparedness, in the Department of Homeland Security.
Dr. Wenzel is a competitor and coach in the United States Cycling Federation. He has raced throughout the USA, and in Ukraine, Austria, Belgium and Italy, and coaches the Auburn Flyers cycling team.
The Secretary's Group Honor Award for Excellence – Secretary of Agriculture (UK, 2002)
Research Interests
Effects of Surveillance and Intervention on Animal Production
Metrics of Bull Breeding Soundness Examinations
Biosecurity, Bioterrorism and Zoonotic and Foreign Animal Disease Preparedness Training
Athletic Training of Animals
Epidemiologic and Statistical Methods in Veterinary Medicine
Publications and Links
Carson R, Koziol J, Wenzel J, Armstrong C, Edmondson J, and Maxwell H. Twenty year trends of bull breeding soundness examinations at a teaching hospital. Clinical Theriogenology 6:495-501, 2014.
Nusbaum KE, Wenzel JGW, and Everly G. Psychological first aid and the veterinarian in rural communities undergoing livestock depopulation. J Am Vet Med Assoc 231:692-694, 2007.
Wenzel JGW. Awareness-level information for veterinarians on weapons of mass destruction and preservation of evidence. J Am Vet Med Assoc 230:1816-1820, 2007.
Wenzel JGW and Nusbaum KE. Veterinary expertise in biosecurity and biological risk assessment. J Am Vet Med Assoc 230:1476-1480, 2007.
Nie GJ, Johnson KE, Wenzel JGW and Braden TD. Effect of administering oxytocin or cloprostenol in the periovulatory period on pregnancy outcome and luteal function in mares. Theriogenology 60:1111-1118, 2003.
Nie GJ and Wenzel JGW. Adaptation of the hypoosmotic swelling test to assess functional integrity of stallion spermatozoal plasma membranes. Theriogenology 55:1005-1018, 2001.
Wenzel JGW, Williamson NB and Seguin BE. Factors associated with use of prostaglandins in reproductive herd health programs for dairy cows. J Am Vet Med Assoc 206:347-353, 1995.
Wenzel JGW, Wright JC and Carson RL. Use of prostaglandin products by dairy cattle owners, beef cattle owners, and veterinarians. J Am Vet Med Assoc 203:1732-1736, 1993.
Wenzel JGW, Odend'hal S and Player EC. Histological and histochemical characterization of the bovine rete ovarii through the estrous cycle and gestation. Zentralblatt für Veterinärmedizin C. Anatomia Histologia Embryologia 16:124-135, 1987.
Pugh DG, Lowder MQ and Wenzel JGW. Retrospective analysis of the management of 78 cases of postpartum metritis in the cow. Theriogenology 42:455-463, 1994.
Carson RL and Wenzel JGW. Observations using the new bull breeding soundness evaluation forms in adult and young bulls. Vet Clinics N Am – Food Animal Practice 13:305-311, 1997.
Nie GJ, Johnson KE, Braden TD and Wenzel JGW. Use of an intra-uterine glass ball protocol to extend luteal function in mares. J Eq Vet Sci 23:266-273, 2003.
Wenzel JGW and Wright JC. Veterinary accreditation and some new imperatives for national preparedness. J Am Vet Med Assoc 230:1309-1312, 2007.
Wenzel JGW. Organizational aspects of disaster preparedness and response. J Am Vet Med Assoc 230:1634-1637, 2007.
Wenzel JGW. Awareness-level information for veterinarians on control zones, personal protective equipment, and decontamination. J Am Vet Med Assoc 231:48-51, 2007.
Wenzel JGW, Carson RL, and Wolfe DF. Bull-to-cow ratios: practical formulae for estimating the number of bulls suggested for successful pasture breeding of cattle. Clinical Theriogenology 4:477-479, 2012.