Robert L. Judd, PhD
Department Head and Boshell Professor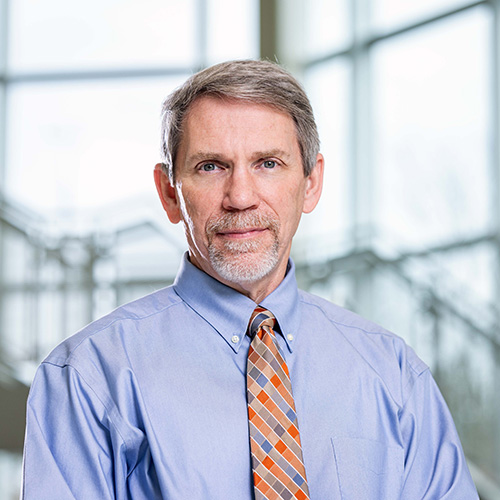 Contact
334-844-6740
juddrob@auburn.edu
Department of Anatomy, Physiology and Pharmacology

Auburn University
College of Veterinary Medicine
1130 Wire Road
Auburn, AL 36849
Education
BA, Hendrix College, Biology, 1986
PhD, Northeast Louisiana University School of Pharmacy, Pharmacology/Toxicology, 1990

Professional Experience
1990-92     Research Fellow                 Mayo Clinic, Mayo Medical School  (Endocrine Research Unit)
1992-93     Senior Research Fellow    Mayo Clinic, Mayo Medical School (Endocrine Research Unit)
1993-98     Assistant Professor            University of Louisiana Monroe

Biography
Dr. Judd joined the Auburn University College of Veterinary Medicine in 1998. He received his BA in biology from Hendrix College in 1986 and the PhD degree in pharmacology/toxicology from Northeast Louisiana University School of Pharmacy in 1990. Dr. Judd subsequently pursued postdoctoral studies under Dr. John Miles at the Mayo Clinic, Medical School (Endocrine Research Unit). There he served as a Research Fellow from 1990-1992, and a Senior Research Fellow from 1992-1993.
Auburn University Student Government Association Teaching Award – 2012
Norden Distinguished Teacher Award (Auburn University) – 2003
Outstanding Graduate Program Officer Award – 2001
Dr. Judd's major research interests center around new treatments for type 2 diabetes. In addition, his lab is conducting investigations into the metabolic ameliorations in glucose and fat metabolism which results in the physiological expression of type 2 diabetes. These current investigations are focused on cytokines secreted from adipose tissue (termed "adipokines") and their role on whole body energy metabolism. Specifically, Dr. Judd's laboratory is focused on the anti-inflammatory effects of the HCA2 receptor. [Research is or has been supported by the Pharmaceutical Research and Manufacturers of American Foundation (PhRMA), American Association of Colleges of Pharmacy (AACP), American Diabetes Association (Louisiana and Minnesota Affiliates), National Institutes of Health (NIH), Diabetes Trust Foundation, and Diabetes Action Research and Education Foundation.
Research Interests
Diabetes, Obesity, Adipose Tissue  Biology
Academic Areas
Pharmacology, Endocrinology
Key Words
Diabetes, metabolism, obesity, adipose tissue, niacin, GPR109A (HCA2)
Publications and Links
NCBI: Dr. Judd
Boshell Diabetes and Metabolic Diseases Research Programs
American Diabetes Association
Juvenile Diabetes Research Foundation International
National Institutes of Health
National Institute of Diabetes and Digestive and Kidney Diseases (NIDDK)