Kendon W. Kuo, DVM, MS, DACVECC
Associate Clinical Professor, Emergency and Critical Care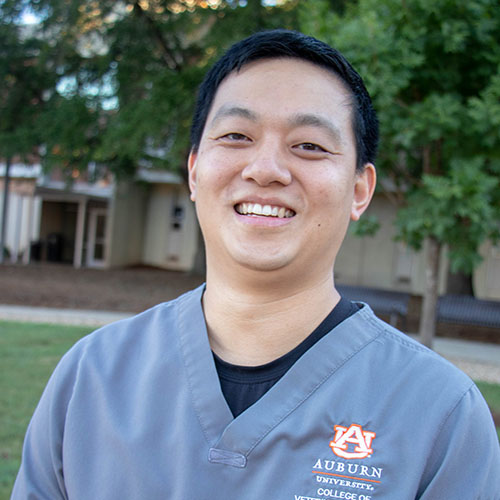 Contact
334-844-4690
kwk0003@auburn.edu
Department of Clinical Sciences

Auburn University
College of Veterinary Medicine
1130 Wire Road
Auburn, AL 36849
Education
MS, Auburn University, Biomedical Sciences, 2014
DVM, University of California, Davis, 2010

Biography
Dr. Kendon Kuo received his DVM from the University of California, Davis in 2010, followed by a one-year internship in Small Animal Medicine and Surgery at Auburn University. Dr. Kuo finished both a residency in Small Animal Emergency and Critical Care and a Master's Degree in Biomedical Sciences at Auburn University in 2014. Dr. Kuo is board-certified by the American College of Veterinary Emergency and Critical Care.
He is currently an Assistant Clinical Professor in the Department of Clinical Sciences at Auburn University. Dr. Kuo has spoken at numerous regional and national/international conferences, including the International Emergency and Critical Care Symposium (IVECCS) and American Veterinary Medical Association Convention (AVMA).
Research Interests
Coagulation, toxicology, hyperbaric oxygen treatment, and trauma.
Publications and Links
Kuo K, Odunayo A. Adjunctive therapy with intravenous lipid emulsion and methocarbamol for permethrin toxicity in 2 cats. J Vet Emerg Crit Care 23 (4) 436-441, 2013.
Herreria-Bustillo V, Kuo KW, Burke P, Cole R, Bacek L. Pilot study evaluating theuse of cervical ultrasound to confirm endotracheal intubation in dogs. J Vet Emerg Crit Care 26(5) 654-8, 2016.
Hansen, SC, Smith AN, Kuo KW, Fish EJ, Koehler JW, Martinez-Romero G, Bacek LM. Metastatic neuroendocrine carcinoma of aortic body origin in a cat. Vet Clin Pathol 45(3), 490-4, 2016
Hansen SC, Bacek LM, Kuo KW, Taylor AR. Traumatic Atlantoaxial Subluxation in Dogs: 8 Cases (2009-2016). J Vet Emerg Crit Care. Accepted, May 2017.
Kuo KW, Bacek LM, Taylor AR. Head Trauma. Vet Clin North Am Small Anim Pract. 48(1):111-128, 2018.
McCarthy D, Bacek LM, Kuo KW. The Use of the Animal Trauma Triage Score, RibScore, Modified RibScore and Other Clinical Factors for Prognostication in Canine Rib Fractures. Vet Comp Orthop Traumatol. 31(4), 239-245, 2018.