PenTing Liao, , DVM, MVM, DVSc, DACVAA, DACVECC
Assistant Professor, Emergency and Critical Care, Anesthesiology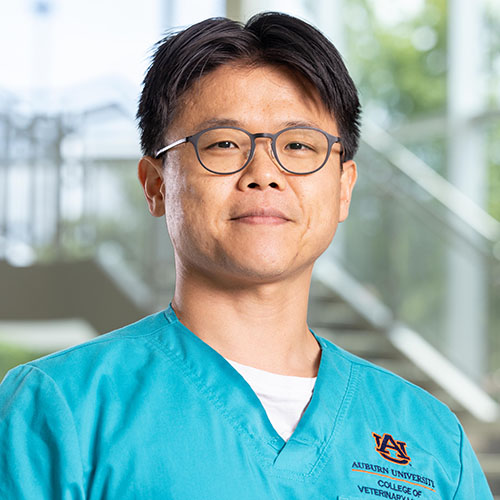 Contact
334-844-4690
pzl0052@auburn.edu
Department of Clinical Sciences

Auburn University
College of Veterinary Medicine
1130 Wire Road
Auburn, AL 36849
Education
DVSc, University of Guelph
MS, National Taiwan University
DVM, National Taiwan University

Biography
Dr. Liao graduated with his DVM from the National Taiwan University and completed his rotating internship there as well. He stayed on to finish his Master of Veterinary Medicine before pursuing a Doctor of Veterinary Science at the University of Guelph. While at Guelph, he completed his residency in Anesthesiology in 2016. Dr. Liao then continued on to the University of Wisconsin-Madison to complete a residency in Emergency and Critical Care in 2019. He held a faculty position at Iowa State University as an Assistant Professor of Anesthesiology prior to joining the Auburn family.
Publications and Links
Chang Y-P, Liao P-T, Shen E-Y, Liu I-H. Protective effect against focal cerebral ischemia injury in acute phase of a novel invasive device for regional hypothermia. Journal of the Chinese Medical Association. 2015;78(1):67–75.
Mackenzie SD, Brisson BA, Gaitero L, Liao P-T, et al. Distribution and short-and long-term effects of injected gelified ethanol into the lumbosacral intervertebral disc in healthy dogs. Veterinary Radiology & Ultrasound. 2016;57(2):180–190.
Liao P-T, Sinclair M, Valverde A, et al. Induction dose and recovery quality of propofol and alfaxalone with or without midazolam coinduction followed by total intravenous anesthesia in dogs. Veterinary anaesthesia and analgesia. 2017;44(5):1016–1026.
Dusick AF, Bach JF, Liao P-T, Hartmann FA. Growth of adenocarcinoma from canine pleural fluid on aerobic bacterial culture. Journal of Veterinary Diagnostic Investigation. 2019.