Andrea Perkins, PhD, MPH, CPH
Clinical Lecturer, Infection Control and Biosecurity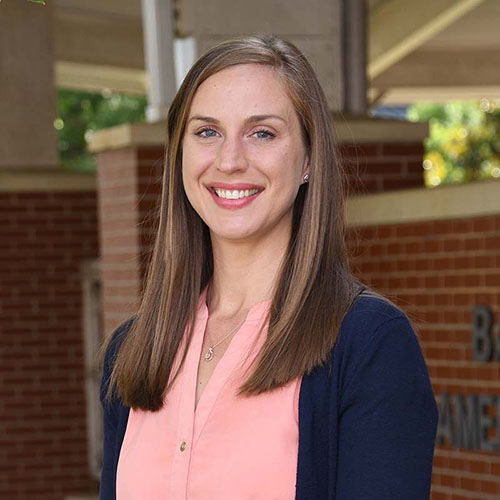 Contact
Department of Clinical Sciences

Auburn University
College of Veterinary Medicine
1130 Wire Road
Auburn, AL 36849
Education
PhD, Washington State University, Veterinary Science, 2019
MPH, University of New England, 2015
BS, University of Minnesota, Animal Science, 2009

Biography
Dr. Perkins obtained an undergraduate degree in Animal Science from the University of Minnesota in 2009, a Master's in Public Health degree from the University of New England in 2015, and a PhD in Veterinary Science from Washington State University in 2019. Additionally, Dr. Perkins is certified in public health (CPH) under the National Board of Public Health Examiners.
Dr. Perkins actually started her infection prevention career in human hospitals before transitioning to veterinary hospitals so she has a unique perspective on infection prevention at the human-animal-environment interface. In her spare time she loves outdoor adventures, spending time with her human and fur family, reading good books, and being artistically creative.
Research Interests
Barriers and motivators for healthcare worker infection control compliance
The role humans play in transmission of predominantly animal pathogens
Hospital-associated infections
Methicillin-resistant Staphylococcus spp. epidemiology
Publications and Links
Perkins, AV, Sellon, DC, Gay, JM, Lofgren, ET, Jones, LP, Davis, MA. Longitudinal observation of meticillin-resistant Staphylococcus pseudintermedius pulsotypes in six veterinary hospitals in the north-western United States. Vet Rec Open. 2022; 9:e241. https://doi.org/10.1002/vro2.41
Barrios, L.C., Riggs, M.A., Green, R.F., Czarnik, M., Nett, R.J., Staples, E. Welton, M.D., Mulilenburg, J.L., Zullig, K.J., Gibson-Young, L., Perkins, A.V., Prins, C., Lauzardo, M., Shapiro, J., Asimellis, G., Kilgore-Bowling, G., Ortiz-Jurado, K., & Gutilla, M.J.. Observed Mask Use at Six Universities During Fall Semester — United States, September–November 2020.  MMWR Surveillance Fall 2020. http://dx.doi.org/10.15585/mmwr.mm7006e1.
Perkins AV, Sellon DC, Gay JM, Lofgren ET, Moore DA, Jones LP, Davis MA. Prevalence of methicillin-resistant Staphylococcus pseudintermedius on hand-contact and animal-contact surfaces in companion animal community hospitals. Can Vet J. 2020 Jun;61(6):613-620. PMID: 32675813; PMCID: PMC7238483.
Fowler H, Davis MA, Perkins A, Trufan S, Joy C, Buswell M, McElwain TF, Moore D, Worhle R, Rabinowitz PM. A survey of veterinary antimicrobial prescribing practices, Washington State 2015. Vet Rec. 2016 Dec 24;179(25):651. doi: 10.1136/vr.103916. Epub 2016 Nov 2. PMID: 27807211.