Satyanarayana R. Pondugula, DVM, PhD
Professor, Veterinary Anatomy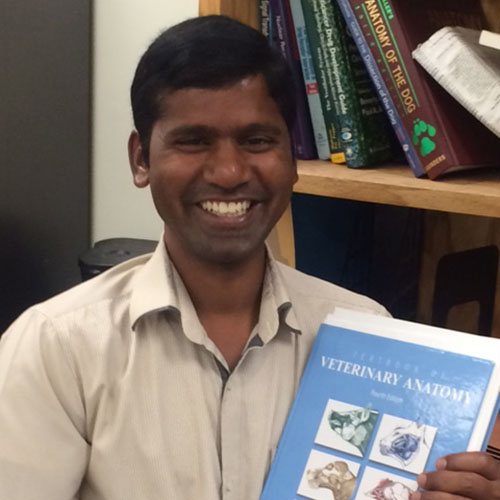 Contact
334-844-8505
srp0010@auburn.edu
Department of Anatomy, Physiology and Pharmacology

Auburn University
College of Veterinary Medicine
1130 Wire Road
Auburn, AL 36849
Education
PhD, Kansas State University
DVM, College of Veterinary Science, Tirupati, India

Professional Experience
Postdoctoral Fellow, St. Jude Children's Research Hospital

Biography
Dr. Pondugula joined Auburn University in August 2011. He earned his DVM from the College of Veterinary Science in Tirupati, India, and his Ph.D. from Kansas State University in Manhattan, Kansas. He continued his training as a postdoctoral fellow at St. Jude Children's Research Hospital in Memphis, Tenn.
Our research is focused on adverse drug interactions, anticancer drug resistance, and anticancer drug discovery. We are interested in understanding the mechanistic role of xenobiotic receptors, drug-metabolizing enzymes, drug-efflux pumps, and inflammatory signaling pathways that contribute to adverse drug interactions and anticancer drug resistance. We are also interested in identifying novel small molecules and natural products for their potential to prevent adverse drug interactions, anticancer drug resistance, and adverse effects of chemotherapy.
I participate in teaching Veterinary Anatomy II to veterinary medicine and graduate students. I also participate in teaching Endocrinology, Receptorology, Cancer Biology & Genetics, Cancer Pharmacology & Drug Discovery, and Pharmacology Research Methods courses to graduate students. I offer research-based Undergraduate Research, Honors Research, and Honors Thesis courses to undergraduate students.
Research Interests
Drug Discovery, Drug Metabolism, Drug Interactions, Chemoresistance, Chemotherapy, Nuclear Receptors, Drug-Metabolizing Enzymes, Drug Transporters
Academic Areas
Anatomy, Pharmacology, Cancer
Key Words
Drug Discovery, Drug Metabolism, Drug Interactions, Chemoresistance, Chemotherapy, Nuclear Receptors, Drug-Metabolizing Enzymes, Drug Transporters
Publications and Links