Randolph L. Winter, DVM, PhD, DACVIM (Cardiology)
Associate Professor, Cardiology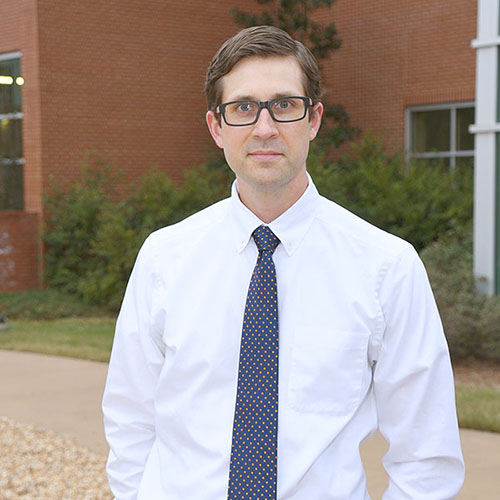 Contact
Department of Clinical Sciences

Auburn University
College of Veterinary Medicine
1130 Wire Road
Auburn, AL 36849
Education
PhD, Auburn University, 2019
DVM, Texas A&M University, 2010

Biography
Dr. Randolph Winter received his DVM degree from Texas A&M University College of Veterinary Medicine and Biomedical Sciences in 2010. He then completed a rotating internship in Small Animal Medicine and Surgery at Colorado State University. Afterwards he returned to Texas A&M to complete his Cardiology Residency, and he became a Diplomat of the American College of Veterinary Internal Medicine, subspecialty Cardiology, in 2014.
Dr. Winter then became a faculty member in Cardiology at Auburn University College of Veterinary Medicine from 2014 – 2018, during which time he completed a PhD degree in Biomedical Science. Starting in 2019 Dr. Winter was a faculty member at Ohio State University College of Veterinary Medicine.
Previous honors and awards that Dr. Winter has received include: Outstanding Small Animal Intern in 2011, ACVIM Resident Research Award in 2014, and SAVMA Teacher of the Year in 2018.
He has returned to head the Cardiology service here at Auburn University.
Research Interests
Congenital heart disease, Minimally-invasive interventional procedures, Myocardial remodeling
Academic Areas
Winter RL, Clark WA, Kochie SL, Rhinehart JD. Long-term relief of obstruction in a dog with double-chambered right ventricle using combined cutting balloon and high-pressure balloon dilation. J Vet Cardiol, 2021.
Winter RL, Rhinehart JD, Estrada AH, Maisenbacher HW 3rd, Claretti M, Bussadori CM, Nguyenba TP, Scansen BA, Bonagura JD. Repeat balloon valvuloplasty for dogs with recurrent or persistent pulmonary stenosis. J Vet Cardiol, 2021.
Winter RL, Remaks JD, Newhard DK. Development of spontaneous echocardiographic contrast after transarterial occlusion of a patent ductus arteriosus in an adult dog with concurrent pulmonary hypertension. Front Vet Sci, 2020.
Winter RL, Tian Y, Caldwell FJ, Seeto WJ, Koehler JW, Pascoe DA, Fan S, Gaillard P, Lipke EA, Wooldridge AA. Cell engraftment, vascularization, and inflammation after treatment of equine distal limb wounds with endothelial colony forming cells encapsulated within hydrogel microspheres. BMC Vet Res, 2020.
Winter RL, Horton JA, Newhard DK, Holland M. Transcatheter embolization of systemic-pulmonary artery fistulas in a dog using embolization coils and silk suture. J Vet Cardiol, 2019.
Newhard DK, Jung S, Winter RL, Duran SH. A prospective, randomized, double-blind, placebo-controlled pilot study of sacubitril/valsartan (Entresto) in dogs with cardiomegaly secondary to myxomatous mitral valve disease. J Vet Intern Med, 2018.
Winter RL, Dillon AR, Cattley RC, Blagburn BL, Tillson MD, Johnson CW, Brawner WR, Welles EG, Barney S. Effect of heartworm disease and heartworm-associated respiratory disease (HARD) on the right ventricle of cats. Parasit Vectors, 2017.
Winter RL, Budke CM. Multicenter evaluation of signalment and comorbid conditions associated with aortic thrombotic disease in dogs. J Am Vet Med Assoc, 2017.
Winter RL, Saunders AB, Gordon SG, Miller MW, Fosgate GT, Suchodolski JS, Steiner JM. Biologic variability of cardiac troponin I in healthy dogs and dogs with different stages of myxomatous mitral valve disease using standard and high-sensitivity immunoassays. Vet Clin Pathol, 2017.
Winter RL, Saunders AB, Gordon SG, Buch JS, Miller MW. Biologic variability of N-terminal pro-brain natriuretic peptide in healthy dogs and dogs with myxomatous mitral valve disease. J Vet Cardiol, 2017.