Alfredo Sanchez, DVM, MS, DACVIM
Associate Clinical Professor, Equine Field Service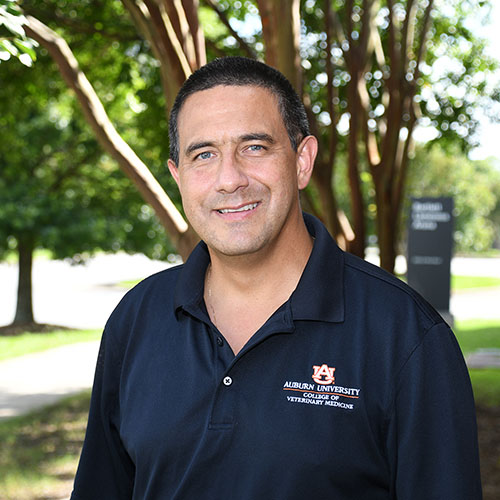 Contact
334-844-4490
azs0238@auburn.edu
Department of Clinical Sciences

Auburn University
College of Veterinary Medicine
1130 Wire Road
Auburn, AL 36849
Education
DVM, Universidad de La Salle, Bogota, Colombia

Biography
Alfredo Sanchez-Londono, DVM, graduated with the title of Medico Veterinario from Universidad de La Salle in Bogota, Colombia and earned his Educational Commission for Foreign Veterinary Graduates (ECFVG) Certification from Purdue University. While at Purdue University, he completed a combined Large Animal Medicine and Surgery internship, followed by a Large Animal Internal Medicine residency combined with a Master's degree. He is Board Certified as a Large Animal Diplomate by the American College of Veterinary Internal Medicine (ACVIM). He completed a course in Animal Chiropractic and obtained his certification through the International Veterinary Chiropractic Association (IVCA) to perform animal chiropractic in both small and large animals, mostly equine.
Sanchez-Londono has research interests in Equine Respiratory Diseases (IAD, EIPH, and RAO), Equine Neonatology and Equine Neurology, with clinical interests in Equine Metabolic Syndrome (EMS) and Pituitary Pars Intermedia Dysfunction (PPID). His teaching experience includes Equine Dermatology, Tick Borne Diseases, Dentistry, Prepurchase Examinations, Equine Reproduction/Mare and Foal health care, and Preventative Medicine.
He worked at Tufts Veterinary Field Service in Woodstock, CT for 14 years where he was responsible for teaching fourth-year Veterinary Medicine students during their rotation in the Ambulatory service. He is an Advisor of the Auburn University Student Chapter of the American Association of Equine Practitioners, and is currently a member of the ACVIM's Large Animal Internal Medicine Residency Training and Credentials Committee. In his free time, Sanchez-Londono enjoys cycling and cooking.
Publications and Links
Frank, Nicholas; Hermida, Pilar; Sanchez, Alfredo; Singh, Ranee; Gradil, Carlos; Uricchio, Cassandra. Blood glucose and insulin concentrations following octreotide administration in horses with insulin dysregulation, JVIM 2017
Coffin, D.; Causey, R.; Staniar, B.; Williams, C.; McKeever, K.; Gradil, C.; Nadeau, J.; Sanchez, A.; Lichtenwalner, A.; Biddle, A. Equine Owner Research and Education Needs To Improve Gastrointestinal Health of Their Equids, NACAA Journal, 2017
Pacheco AP, Paradis MR, Hoffman AM, Hermida P, Sanchez A, Nadeau JA, Tufts M, Mazan MR. "Age Effects on Blood Gas, Spirometry, Airway Reactivity, and Bronchoalveolar Lavage Fluid Cytology in Clinically Healthy Horses." J Vet Intern Med. 2014 Feb 16.
Culture conditions for equine bone marrow mesenchymal stem cells and expression of key transcription factors during their differentiation into osteoblasts: the launch of Journal of Animal Science and Biotechnology Elizabeth R A Glynn, Alfredo Sanchez Londono, Steven A Zinn, Thomas A Hoagland and Kristen E Govoni. Journal of Animal Science and Biotechnology, 4:40 (29 Oct 2013)
McFarlane, Dianne; Paradis, Mary Rose; Zimmel, Dana; Sykes, Ben; Brorsen, B.; Sanchez, Alfredo; Vainio, Kati. The effect of geographic location of residence, breed and pituitary dysfunction on seasonal ACTH and α-MSH plasma concentration. Journal of Veterinary Internal Medicine, accepted for publication November 21,2010
Schumacher, VL, Hinckley L, Gilbert K, Risatti GR, Sanchez Londoño, A, Smyth JA. Actinomyces hyovaginalis- associated lymphadenitis in a Nubian goat. J Vet Diagnostic Investigation 2009 May 21 (3):380-4
Sanchez A., Couetil LL., Clark SP, Ward MP. Effect of Airway Disease on Blood Gas Exchange in Racehorses. Journal of Veterinary Internal Medicine. Vol.19,No.1,  2005.
Vemulapalli, R., Langohr IM, Sanchez A. et al. Molecular Detection of Leptospira kirshneri in Tissues of a Prematurely Born Foal. Journal of Veterinary Diagnostic Investigation. Vol. 17, No. 1, 2005.