Maninder Sandey, BVSc, MVSc, PhD, DACVP
Assistant Professor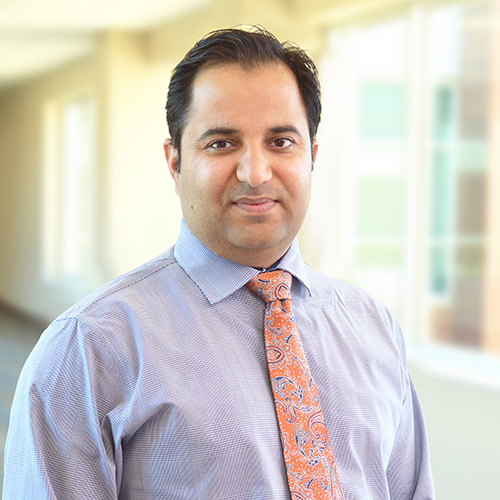 Contact
334-844-2689
mzs0011@auburn.edu
Department of Pathobiology

Auburn University
College of Veterinary Medicine
1130 Wire Road
Auburn, AL 36849
Education
PhD, Auburn University, Veterinary Biomedical Sciences, 2012
MVSc, Indian Veterinary Research Institute, Izzatnagar, India, Animal Biotechnology, 2005
DVM, University of Agricultural Sciences, Dharwad, India, 2004

Biography
Dr. Sandey is an Assistant professor of pathology in the Department of Pathobiology. He received his D.V.M. from University of Agricultural Sciences, Dharwad (in India) in 2004. Dr. Sandey was awarded a Junior Research Fellowship to pursue Master of Veterinary Science (M.V.Sc) in Animal Biotechnology from the Indian Veterinary Research Institute, Izzatnagar (in India) in 2005. He received a Ph.D. in Veterinary Biomedical sciences from Auburn University in 2012. Dr. Sandey received a fellowship from EPSCoR and an Animal Health and disease Research grant to complete his Ph.D. project "Elucidation of genomic structure and biological functions of canine MDA-7 and its receptors". He completed a three-year anatomic pathology residency at Auburn University and is board certified by the American College of Veterinary Pathologists.
Research Interests
Dr. Sandey's research focuses on molecular profiling, molecular classification and comparative aspects of canine cancer. His laboratory is developing novel adenoviral vectors for both oncolytic virotherapy and delivery of genes with antitumor properties such as canine melanoma differentiation associated gene-7. The laboratory is also developing novel molecular diagnostic and prognostic assays.
In addition, his laboratory is characterizing a liver specific knockout mouse model of human Niemann Pick disease type C.
Publications and Links
Agarwal P, Yanchak EA, Sajib AM, Sandey M, Smith BF. Cell-Surface Integrins and CAR Are Both Essential for Adenovirus Type 5 Transduction of Canine Cells of Lymphocytic Origin. PLoS One. 2017
OC Norris, EC Graff, M Sandey, RJ Kemppainen and RL. Judd. Characterization and sequencing of the HCA1 and HCA2 Receptors in Cats. Domestic Animal Endocrinology. (2015); 53:88-94.
Maninder Sandey, R. Curtis Bird, Swadesh K. Das, Devanand Sarkar, David T. Curiel, Paul B. Fisher and Bruce F. Smith. Characterization of the canine mda-7 gene, transcripts and expression patterns. Gene. (2014); 547(1): 23-33.
Agarwal P, DeInnocentes P, Sandey M, Bird RC. Tumor Suppressor Gene p16/INK4A/CDKN2A: Regulation Into and Out of the Cell Cycle in a Spontaneous Canine Model of Breast Cancer. Journal of cellular biochemistry. (2013);114(6):1355-63.