Ricardo Stockler, DVM, MS, PhD
Diplomate American Board of Veterinary Practitioners – Dairy Specialty
Associate Clinical Professor of Farm Animal Field Services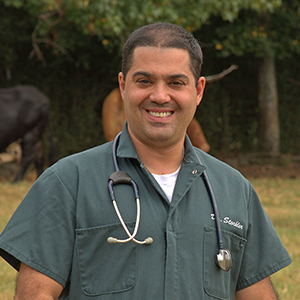 Contact
334-844-4490
rms0047@auburn.edu
Department of Clinical Sciences
Auburn University
College of Veterinary Medicine
1500 Wire Road
Auburn, AL 36849
Education
PhD, Auburn University, Veterinary Biomedical Sciences, 2021
MS, University of Illinois, Veterinary Clinical Medicine, 2007
DVM, College of Veterinary Medicine "FIFEOB", Sao Joao da Boa Vista, State of Sao Paulo, Brazil, 2002
Biography
Dr. Stockler received his veterinary degree from the College of Veterinary Medicine "FIFEOB" in Sao Joao da Boa Vista, State of Sao Paulo in Brazil in 2002. After graduating from veterinary school, he completed a one-year dairy internship program at Green Meadow Farms, Elsie, Mich., and Michigan State University which provided advanced training in dairy medicine, surgery, herd health, nutrition and epidemiology.
In 2007, he completed a three-year residency program in Food Animal Reproduction, Medicine and Surgery at University of Illinois and received a Master of Science degree in veterinary clinical medicine from the same institution.
During the residency he fulfilled the requirements for the certification program of the American Board of Veterinary Practitioners – Dairy Specialty and was awarded Diplomate status in November 2011 (Recertified in 2019).
He was on faculty at Mississippi State University College of Veterinary Medicine and at the University of California, Davis School of Veterinary Medicine (VMTRC), before he joined the food animal section at Auburn on August of 2014. Currently Dr. Stockler is primarily responsible for the Farm Animal Ambulatory Service.
Research Interests
Microbiome, milk quality and udder health, food animal clinical pharmacology, metabolic and infectious diseases in cattle.
Selected Publications
Book Chapters in:
Bovine Reproduction by Richard M. Hopper, 2nd edition, John Wiley & Sons, Inc. USA
Sheep, Goat, and Cervid Medicine by Pugh, Baird, Edmondson and Passler, 3rd edition, Elsevier, USA
Blackwell's Five Minute Veterinary Consultant: Ruminant 2nd edition on-line, Wiley Blackwell, USA
Articles:
Stockler RM, Higgins KV, Hallowell H, Groover ES, Hiltbold EM, Newcomer BW, Walz PH. In vivo Microbiome Profiling of the Luminal and Mucosal Surface of the Duodenum Using a Cannulated Yearling Bovine Model. Front Vet Sci. 2020 Nov 9;7:601874. doi: 10.3389/fvets.2020.601874. PMID: 33240966; PMCID: PMC7680733./li>
Agne GF, Stockler RM, Passler T, Maxwell H, Cole R. Successful surgical resolution of a ceco-cecal intussusception in a 15-month-old Angus heifer. Can Vet J. 2018 Oct;59(10):1071-1074. PMID: 30510310; PMCID: PMC6135298.
Novak TE, Rodriguez-Zas SL, Southey BR, Starkey JD, Stockler RM, Alfaro GF, Moisá SJ. Jersey steer ruminal papillae histology and nutrigenomics with diet changes. J Anim Physiol Anim Nutr (Berl). 2019 Nov;103(6):1694-1707. doi: 10.1111/jpn.13189. Epub 2019 Sep 4.
Stockler RM, Morin DE, Lantz RK, Constable PD. Effect of milking frequency and dosing interval on the pharmacokinetics of cephapirin after intramammary infusion in lactating dairy cows. Journal of Dairy Sciences. 2009 Sep; 92(9):4262-75.
Stockler RM, Morin DE, Lantz RK, Hurley WL, Constable PD. Effect of milk fraction on concentrations of cephapirin and desacetylcephapirin in bovine milk after intramammary infusion of cephapirin sodium. Journal of Veterinary Pharmacology and Therapeutics. 2009 Aug; 32(4):345-52.