Scarlett M. Sumner, DVM
Assistant Professor, Small Animal Surgery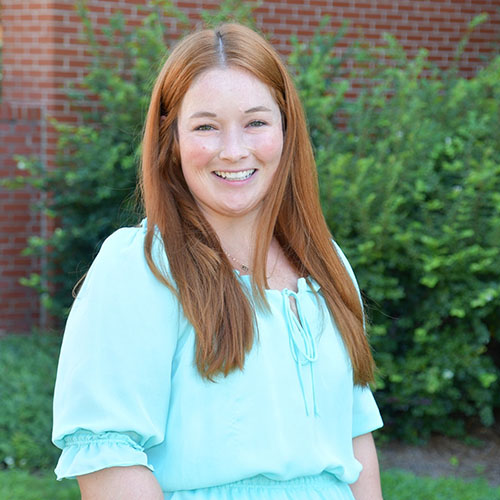 Contact
Department of Clinical Sciences

Auburn University
College of Veterinary Medicine
1130 Wire Road
Auburn, AL 36849
Education
DVM, University of Georgia, 2018
BS, University of Georgia, 2014

Biography
Dr. Scarlett Sumner earned a Bachelor of Science degree in Biological Science with high honors, a CURO Scholar Distinction, and magnum cum laude from the University of Georgia in 2014. She then continued her education at the University of Georgia to earn a Doctor of Veterinary Medicine degree in 2018, where she was a magnum cum laude graduate. After graduation, Dr. Sumner went on to complete a one-year small animal rotating internship at the University of Florida in 2019. She then returned to the University of Georgia to complete a small animal surgical residency in 2022. Following completion of her residency, Dr. Sumner joined the faculty at Auburn as an Assistant Professor in small animal surgery.
Awards:
Phi Zeta Honor Society, Xi chapter, University of Georgia, 2018
American Association of Veterinary Surgeons Award, University of Georgia, 2018
Proficiency in Small Animal Medicine Certificate, University of Georgia, 2018
Research Interests
Regenerative medicine and wound healing
Publications and Links
Sumner SM, Wallace ML, Mulder AT, Delmotte SB, Duran SH, Lindell H, Annaji M, Dimick T, Poudel I, Babu JR. (2022). Development and Evaluation of a Novel Topically Applied Sildenafil Citrate Hydrogel and its Influence on Wound Healing in Dogs. American journal of veterinary research. 2022;83(8). DOI:10.2460/ajvr.21.12.0209.
Sumner SM, Case JB, Regier PJ, Gallastegui A, Oliveira L, Abbott JR. (2021). Laparoscopic Gonadectomy in a Dog with XX/XY Chimaerism and Underdeveloped Reproductive Organs. Journal of the American Veterinary Medical Association. 258(1):80-84. DOI:10.2460/javma.258.1.80.
Naskou MC, Sumner SM, Berezny AL, Copland IB, & Peroni JF. (2019). Fibrinogen depleted equine platelet lysate affects the characteristics and functionality of mesenchymal stem cells. Stem Cells And Development. 28(23):1572-1580. DOI:10.1089/scd.2019.0070
Sumner SM, Regier PJ, Case JB, Ellison GW. (2019). Suture reinforcement for stapled intestinal anastomoses in dogs: 77 dogs (2008-2018). Veterinary Surgery. 7:1188-1193. DOI:10.1111/vsu.13274.
Sumner SM, Grimes JA, Wallace ML, Schmiedt CW. (2018). Os clitoris in dogs: 17 cases (2009-2017). Canadian Veterinary Journal. 59(6): 606–610.
Naskou MC, Sumner SM, Chocallo A,  Kemelmakher H, Thoresen M, Copland IB, Galipeau J, and Peroni JF. (2018). Platelet lysate as a novel serum free media supplement for the culture of equine bone marrow derived mesenchymal stem cells. Stem Cells Research and Therapy. 9:75. DOI: 10.1186/s13287-018-0823-3
Sumner SM, Naskou MC, Thoresen M, Copland IB, Peroni JF. (2017). Platelet lysate obtained via plateletpheresis performed in standing and awake equine donors. Transfusion. 57:1755-1762. DOI: 10.1111/trf.14124
Rossow JA, Hernandez SM, Sumner SM, et al. (2013). Haemogregarine infections of three species of aquatic freshwater turtles from two sites in Costa Rica. International Journal For Parasitology: Parasites & Wildlife. 2:131. DOI:10.1016/j.ijppaw.2013.02.003