Todd M. Thomas, DVM, MSpVM (Surgery)
Associate Clinical Professor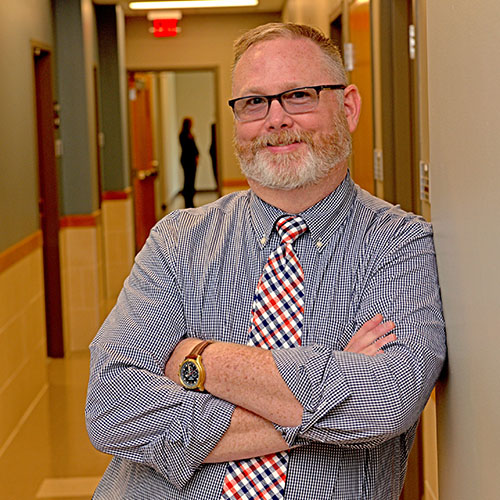 Contact
Department of Clinical Sciences

Auburn University
College of Veterinary Medicine
1130 Wire Road
Auburn, AL 36849
Education
DVM, Auburn University, 1995

Biography
After receiving his DVM degree from Auburn University College of Veterinary Medicine in 1995, Dr. Thomas served a year-long internship in small animal medicine and surgery at The Animal Medical Center in New York, before entering the military, where he worked extensively with the Military Working Dogs (MWD) program. He is a board certified small animal surgeon with more than 22 years of clinical practice and 10 years of specialty practice. After retiring from military service he worked for two years at the LTC Daniel E. Holland Military Working Dog Hospital in San Antonio, Texas. During his active duty service, he served a nine-month tour of active duty in Afghanistan, where he worked with the Department of Defense's detector and patrol dogs. He joined the clinical faculty in 2018 at Auburn's veterinary referral hospital at the Auburn University Educational Complex in Gulf Shores, where he serves as surgeon.
Dr. Thomas is a Diplomate, American College of Veterinary Surgeons-Small Animal; has more than six years working and teaching in two Association for Assessment and Accreditation of Laboratory Animal Care Internal (AAALAC) accredited facilities; and he spent more than a year as principal investigator for three animal use protocols. Dr. Thomas also holds a Master of Specialized Veterinary Medicine from N.C. State University.
Dr. Thomas provides animal health care and clinical education at the college's Auburn Veterinary Specialists-Gulf Shores, the centerpiece of the Auburn University Educational Complex in Gulf Shores, Ala, providing specialty care veterinary service and clinical educational opportunities for senior veterinary students.
Clinical Interests:
Dr. Thomas' clinical interests are in the areas of small animal surgery with an emphasis on working dog healthcare and management, including lumbosacral disease, minimally invasive procedures, emergency procedures, pain management and perioperative critical care.