Vitaly J. Vodyanoy, , MS, PhD
Professor, Physiology & Director of the Biosensory Laboratory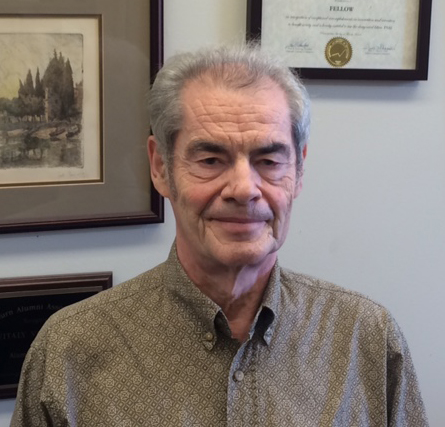 Contact
334-844-5405
vodyavi@auburn.edu
Department of Anatomy, Physiology and Pharmacology
Auburn University
College of Veterinary Medicine
1130 Wire Road
Auburn, AL 36849
Education
PhD, Agrophysical Research Institute, Leningrad, USSR, Biophysics, 1973
MS, Moscow Physical Engineering Institute, Physics,1964

Biography
Dr. Vodyanoy joined the Auburn University College of Veterinary Medicine in 1989. Dr. Vodyanoy received his M.S. in Physics from Moscow Physical Engineering Institute in 1964, and his Ph.D. in biophysics in 1973 from Agrophysical Research Institute, Leningrad, USSR. He has been a member of the faculty in the Institute of Semiconductors and A.F. Loffe Physicotechnical Institute, Academy of Sciences, Leningrad, USSR. He had worked at the Department of Chemistry, New York University and the Department of Physiology and Biophysics, College of Medicine, University of California, Irvine.
Elected to the rank of NAI Fellow, 2013
National Academy of Inventors – "Excellence in Innovation Award", 2013
FacultyRow List of SuperProfessors – 2012
B.F. Hoerlein Memorial Endowed Faculty Research Award – 2011
Auburn University Alumni Professor – 2007-2012
Nano 50 Award presented by NASA – 2007 for the Dual Mode Fluroescence (DMF) module for the optical microscope.
R&D 100 Award by R&D Magazine – 2007, for the Dual Mode Fluroescence (DMF) module for the optical microscope and in 2006, for inventing an optical microscopy-imaging system.
Auburn University Creative Research Award – 2005
Auburn University Distinguished Graduate Faculty Lecturer – 2005
Pfizer Animal Health Award for Research Excellence – 2000
Research Interests
Sensory physiology, receptors, cancer cells, biosensors, cell membranes, monolayers and bilayers, molecular recognition, olfactory receptor neurons, nanoparticles, biopolymers, bacteriophages, primo-vascular system, and light microscopy. The major research aims are to determine the initial chemoreceptive events in the animal olfactory system and to find out how is odorant information translated into electrical events in the olfactory receptor. The work involves zinc metal nanoparticles that we found strongly enhance olfactory sensory neuron responses to odorants. Another focus of our research is centered in structural properties of primo nodes, vessels, and capillaries that are being characterized by a high resolution light microscopy. We presume that knowledge of the primo vascular system, that may represent acupuncture meridians, offers advances in medical science comparable to the progress generated by the lymphatic system's discovery. We also work with a novel cell preservation process and biopolymer which is non-toxic, water-soluble, allows for the storage of samples without refrigeration. Finally, we are developing biosensors that are based on bacteriophages targeting pathogenic bacteria.
Publications