James A. Weyhenmeyer, PhD
Professor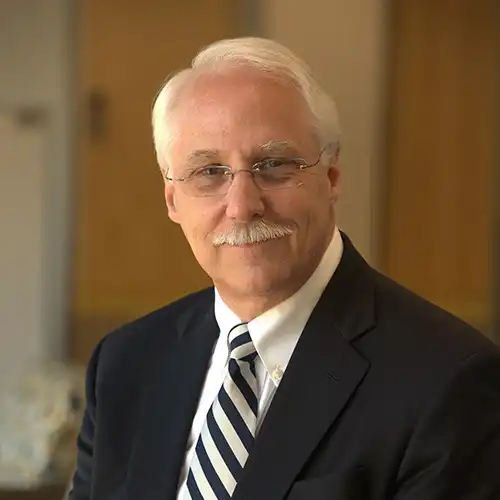 Contact
Department of Anatomy, Physiology and Pharmacology

Auburn University
College of Veterinary Medicine
1130 Wire Road
Auburn, AL 36849
Education
BA , Biology, Knox College, Biology, Galesburg, IL
PhD, Cell Biology/Immunology, Indiana University, Bloomington, IN
Postdoctoral Fellow, Physiology/Neuroscience, University of Iowa, Iowa City, IA

Biography
James Weyhenmeyer, PhD, joined Auburn University in April 2019 and serves as the institution's vice president for research and economic development. In this role, Dr. Weyhenmeyer provides leadership to various research and economic development units, including sponsored programs, proposal services and faculty support, research compliance, the university veterinarian, electronic research administration, innovation advancement and commercialization, external engagement and support, and university-based start-ups.
Working with the university's administration, including academic units, research centers and institutes, the Alabama Agricultural Experiment Station and the Alabama Cooperative Extension System, Dr. Weyhenmeyer directs the strategic development and implementation of university-wide, research-related programs and creative activities.
Dr. Weyhenmeyer joined Auburn from Georgia State University (GSU), where he served as vice president for research and economic development and as chair of the Research Foundation board of directors. At GSU, Dr. Weyhenmeyer managed the university's research portfolio, economic development activities, and information technology operations. Before joining GSU, he was the senior vice provost for research and economic development at the State University of New York and the vice president for research at the State University of New York Research Foundation.
Dr. Weyhenmeyer has also held several executive administrative appointments, including posts as the vice president for technology and economic development at the University of Illinois. He was the founding managing director and CEO of Illinois VENTURES, LLC, an early-stage venture capital firm focused on the development of technology-based companies. His area of investment expertise is in the life sciences sector, including therapeutics, diagnostics, and medical devices. A serial entrepreneur, Dr. Weyhenmeyer has served in management positions for companies in the medical device, drug delivery and drug development sectors. He continues to serve as a scientific advisor for technology-based companies and a consultant for early-stage investment due diligence and business start-ups. Dr. Weyhenmeyer currently serves on a number of public and private boards of directors and lead an effort for the American Heart Association to launch a Science and Technology Accelerator Fund to reduce the time to market for groundbreaking discoveries impacting the diagnosis and treatment of cardiovascular disease and stroke.
Dr. Weyhenmeyer has published widely in the areas of cardiovascular disease and stroke. He has been funded by the National Institutes of Health, the National Science Foundation, the American Heart Association, the PHARMA Foundation and private industry. He has received many awards and honors for his research, most recently the American Heart Association's Meritorious Achievement Award for research and service. He is a professor of neuroscience and biology at Georgia State and continues to hold an appointment as adjunct professor of cell biology, neuroscience and pathology at the University of Illinois. He is professor of anatomy/physiology/pharmacology, biological sciences, and chemical engineering at Auburn University. He is also a member of several honorary societies, including the Royal Academy of Engineering Sciences. Weyhenmeyer received his B.A. from Knox College, a Ph.D. from Indiana University and did his postdoctoral training in the Departments of Medicine and Physiology and Biophysics at the University of Iowa.