D. Ray Wilhite, MS, PhD
Anatomy Lab Coordinator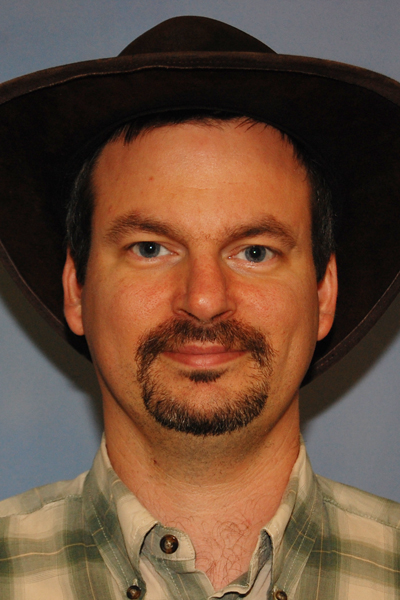 Contact
334-844-6738
drw0004@auburn.edu
Department of Anatomy, Physiology and Pharmacology
Auburn University
College of Veterinary Medicine
1130 Wire Road
Auburn, AL 36849
Education
PhD, Louisiana State University, Vertebrate Paleontology, 2003
MS, Brigham Young University, Geology, 1999
BS, University of Alabama at Birmingham, Geology, 1995

Biography
Dr. Wilhite became the Anatomy Laboratory coordinator at the Auburn University College of Veterinary Medicine in the Spring of 2008. Dr. Wilhite received his B.S. degree in geology from the University of Alabama at Birmingham in 1995. He receive a Master of geology degree from Brigham Young University in Provo, Utah in 1999, then continued his research in geology and completed his PhD degree in vertebrate paleontology from Louisiana State University in 2003.  Before coming to Auburn, Dr. Wilhite taught historical geology and veterinary anatomy and histology at LSU and eceived the 2007 Teacher of the Year Award (given by the Class of 2010) and was awarded the Carl J. Norden Distinguished Teacher Award in 2003.  Dr. Wilhite works diligently to improve and enhance our Anatomy Laboratory giving first year veterinary students a firm foundation base in anatomy as they continue their career in veterinary medicine.
President, American Association of Veterinary Anatomists (AAVA), 2015-1017
SCAVMA Teacher of the Year (Student Chapter of the American Veterinary Medical Association at the College of Veterinary Medicine) – 2014
Research Interests
My research interests include sauropod dinosaur limb biomechanics and the use of three-dimensional modeling to reconstruct the appendicular skeleton of sauropod dinosaurs. Of particular interest is the nature of articular cartilage in sauropod dinosaurs. I am currently focusing on the nature of hyaline cartilage in mammals, crocodilians and birds. This information will be used to attempt to reconstruct the cartilaginous portion of sauropod limb joints. I am also involved in work on crocodilian musculoskeletal anatomy.
I am currently working on three-dimensional reconstructions of the bones, joints, muscles, ligaments, blood vessels and nerves in the equine forelimb and hind limb.
The gross anatomy lab is used by many classes and researchers here at the University. I have had the privilege to assist in many of these projects.
Teaching Responsibilities
Fall Semester:
VMED 5111 – Veterinary Anatomy I:  All small animal gross anatomy laboratories
Lectures:

Bones of the thoracic limb and pelvic limb
Muscles of the thoracic limb and pelvic limb
Blood vessels and nerves of the thoracic limb and pelvic limb
Joints of the thoracic and pelvic limbs

Exotic Animal Anatomy elective – Coordinator
Spring Semester:
VMED 5121 – Veterinary Anatomy II:  All large animal gross anatomy laboratories
Lectures:

Equine Gutteral pouch
Equine Thoracic Limb
VMED 5141 – Organology of Domestic Animals:
Lecture on the histology of the equine hoof
Equine Podiatry Elective
Lecture on the equine distal limb
Publications