James C. Wright, DVM, MS, PhD, DACVPM
Professor Emeritus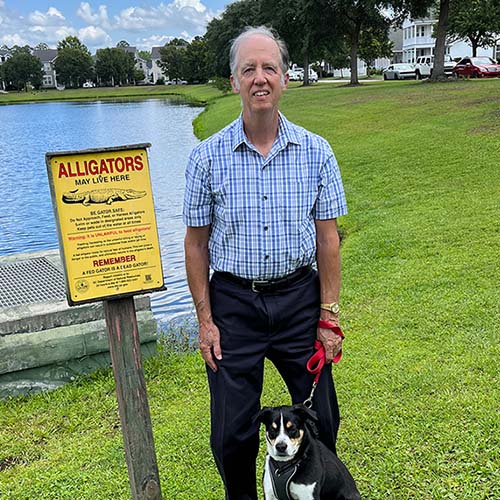 Contact
Department of Pathobiology

Auburn University
College of Veterinary Medicine
1130 Wire Road
Auburn, AL 36849
Education
PhD, University of Missouri, Columbia
MS, University of Missouri, Columbia
DVM, University of Georgia
BS, Virginia Tech

Biography
Prior to entry into graduate school, Dr. Wright was in a small animal/equine practice at Georgetown Veterinary Hospital in Charlottesville, Virginia. He was a research associate at Missouri and his first faculty appointment was in the Department of Parasitology, Microbiology, and Public Health at Oklahoma State University. Dr. Wright joined the Microbiology Department at the AUCVM in 1985 and retired just as the SARS-CoV-2 pandemic forced Auburn to transition to virtual teaching. Hired back as a visiting professor he assisted with teaching during the pandemic until December of 2021.
Dr. Wright taught courses in virology, epidemiology, and public health at Oklahoma State. At Auburn, he taught courses in public health, epidemiology, cage bird medicine, wildlife diseases, and disaster medicine; developed courses in epidemiology and service learning for the Public Health Minor program; and developed a Public Health Rotation for the clinical year.
He conducted field and laboratory research on pseudorabies transmission in swine and raccoons at Missouri. At Auburn his research interests have included vector-borne diseases (Bluetongue, Lyme Disease and West Nile virus); and pre-harvest food safety (E. coli:O157:H7 and salmonella).
During his career, Dr. Wright served on 37 graduate committees and authored or co-authored 119 peer-reviewed publications and 2 book chapters. Notable service and outreach included chairing the Committee for Environmental and Animal Health for the Alabama Department of Public Health and the Public Health/Rabies Committee for the Alabama Veterinary Medical Association. He also team taught two public health courses at Air University, Maxwell Air Force Base, Montgomery, AL, where he and his colleagues were given a teaching of research award. In 2022, he also received an award from the Alabama VMA for his service in linking the veterinary profession with the designation of "Essential Healthcare Personnel" during the early days of the pandemic.