Amy B. Yanke, DVM, MS, DACVIM (Neurology)
Assistant Professor of Neurology/Neurosurgery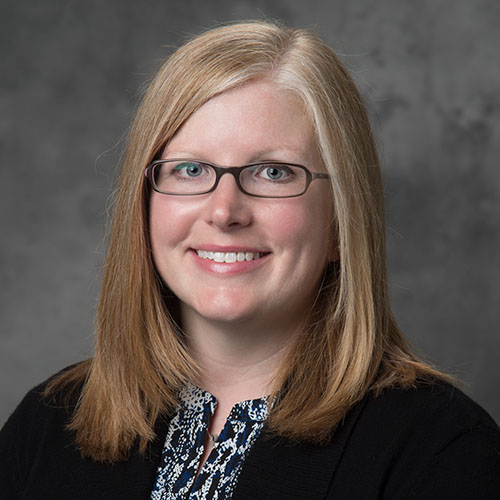 Contact
334-844-4690
aby0003@auburn.edu
Department of Clinical Sciences
Auburn University
College of Veterinary Medicine
1130 Wire Road
Auburn, AL 36849
Education
MS, Purdue University, 2017
DVM, University of Georgia, 2012

Biography
Dr. Amy B. Yanke received her DVM from the University of Georgia College of Veterinary Medicine in 2012. Following graduation, Dr. Yanke completed a one-year rotating internship in Small Animal Medicine and Surgery at the Veterinary Specialty Center of Tucson, Arizona. She then completed a one-year specialty internship in Neurology at the Animal Specialty Center in Yonkers, New York. From 2014-2017, she completed a three-year residency in Neurology and Neurosurgery at Purdue University. She additionally earned a master's degree from Purdue University in 2017. She attained board certification from the American College of Veterinary Internal Medicine (ACVIM) in Neurology in 2019. She is currently an Assistant Professor in the Department of Clinical Sciences.
Research Interests
Intracranial Neoplasia, Spinal Neoplasia
Publications and Links
Omar NB, Bentley RT, Crossman DK, Foote JB, Koehler JW, Markert JM, Platt SR, Rissi DR, Shores A, Sorjonen D, Yanke AB, Gillespie GY, Chambers MR. Safety and interim survival data after intracranial administration of M032, a genetically engineered oncolytic HSV-1 expressing IL-12, in pet dogs with sporadic gliomas. Neurosurg Focus. 2021 Feb;50(2):E5. doi: 10.3171/2020.11.FOCUS20844. PMID: 33524948.
Her J, Yanke AB, Gerken K, Yoon J, Peters AA, Hofmeister E, Bacek LM, and Kuo KW. Relationship between admission variables in dogs with brain herniation: a retrospective study in 54 dogs. J Vet Emerg Crit Care. Accepted for publication July 21, 2020.
Chambers MR, Bentley RT, Crossman DK, Foote JB, Koehler JW, Markert JM, Omar NB, Platt SR, Self DM, Shores A, Sorjonen DC, Waters AM, Yanke AB and Gillespie GY. The One Health Consortium: Design of a Phase I Clinical Trial to Evaluate M032, a Genetically Engineered HSV-1 Expressing IL-12, in Combination With a Checkpoint Inhibitor in Canine Patients With Sporadic High Grade Gliomas. Front. Surg. 2020. 7:59. doi: 10.3389/fsurg.2020.00059.
Yanke AB, Miller MA, Fulkerson CV, Bohn K, Bentley RT. Remission after complete excision of an intramedullary hemangioma with an identifiable tumor plane in a dog. Vet Surg. 2019 Nov;48(8):1507-1513. doi: 10.1111/vsu.13238. Epub 2019 Jun 9. PMID: 31179565.
Bentley RT, Ahmed AU, Yanke AB, Cohen-Gadol AA, and Dey M. Dogs are man's best friend: in sickness and in health. Neuro Oncol. 2017 Mar 1;19(3):312-322.