Educational Programs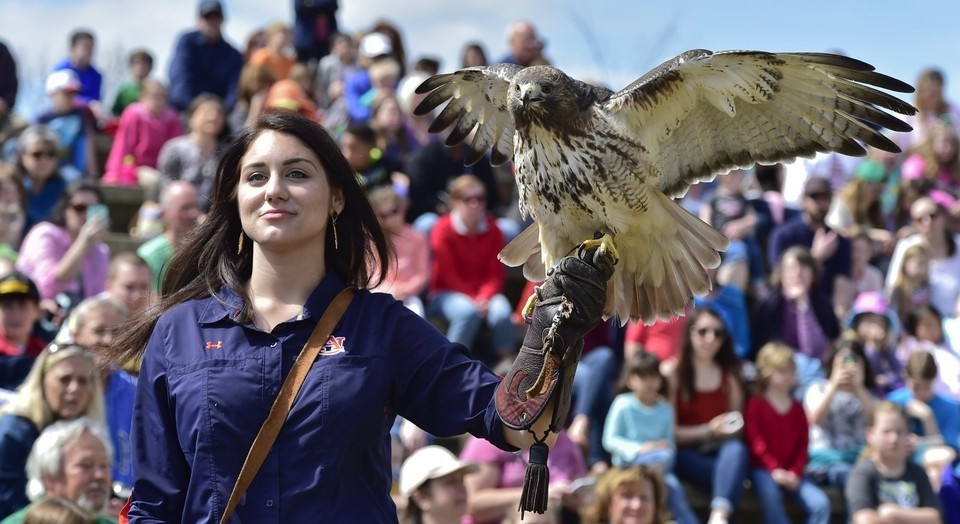 The Auburn University Raptor Center's educational team conducts programs by appointment throughout the area to promote an awareness and appreciation for birds of prey. In addition, clients can schedule a private tour of the center or a presentation at the on-site outdoor amphitheater. Each year, over 300 public and private educational events are held, teaching approximately 30,000 people about raptor conservation, habitats and ecology. Our Eagle Flight Program allows us to also reach and connect with an additional 500,000+ spectators annually.
Off-Site Presentations
We offer a variety of flighted, non-flighted and static presentation formats to schools, day cares, businesses, retirement homes and just about any other audience interested in hearing our message. Our goal is to provide informative, raptor education that can be tailored to meet your needs. For educators, we are able to offer programs catered to and consistent with your curriculum units and learning objectives. Each presentation allows the audience to experience live raptors up-close while learning about their natural history and vital ecological roles. These presentations offer an unparalleled experience designed to enthrall audiences of all ages. Presentations feature a selection of our raptor ambassadors and may include owls, falcons, hawks, kites, vultures and eagles. These raptor ambassadors have all been deemed non-releasable and permanently reside at the center.
On-Site Presentations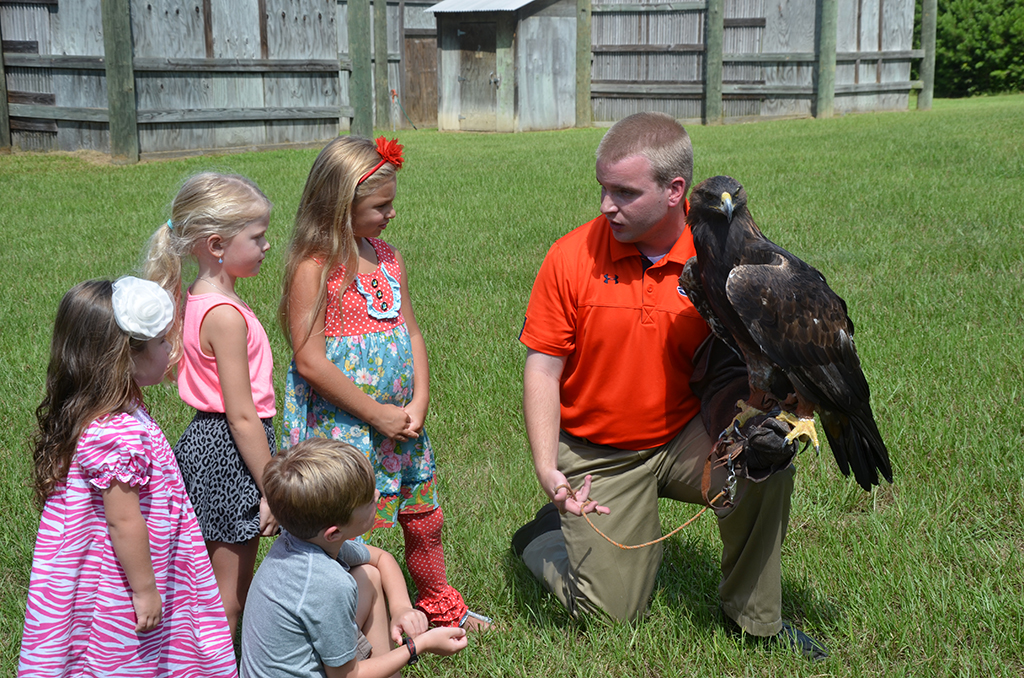 You may also enjoy booking an outdoor tour of the Auburn University Raptor Center's education department. Guests are treated to a guided outdoor walk around the enclosures that house the center's raptor ambassadors, allowing an up-close look at each of these birds, while learning interesting facts about them. This tour lasts approximately one hour and can be booked for groups of 25 or less.
For groups of 25 or more, we offer the option of a formal presentation at our outdoor amphitheater. This option allows guests to be seated and watch as a variety of raptors are presented individually while facts are discussed about each one. Typically, seven raptors, including an eagle, are brought to an amphitheater show and it lasts approximately one hour. The amphitheater is uncovered and subject to weather conditions permitting.
The Auburn University Raptor Center is a non-profit organization and we do charge a fee to cover expenses and to aid in our education and conservation efforts. For more information or to arrange a program, choose a button below to submit an online request or call the center at (334) 844-6943.
Eagle Flight Program
For more than 100 years, eagles have been associated with Auburn University's football program. From a static presence on the sidelines to rousing flights over the field, War Eagle has become an Auburn icon. Eagles stir emotions in many people as they have come to symbolize strength, power, and courage as well as other important values such as freedom, American heritage, and the preservation of our environment.
Currently, the Auburn University Raptor Center is home to four eagles that have flown in Jordan-Hare Stadium before an Auburn football game. Those eagles are Nova – War Eagle VII, Spirit, Independence and Aurea – War Eagle VIII.
Although not titled War Eagle VII until November 2006, Nova's first pre-game flight was at the Kentucky game in 2004. Nova was hatched in 1999 at the Montgomery Zoo and came to Auburn in 2000. As of 2017 – Nova was suspended from flight activities due to a diagnosis of a heart condition – cardiomyopathy. Although not participating in flight activities, Nova is still the current War Eagle and helps with educational presentations across the Southeast.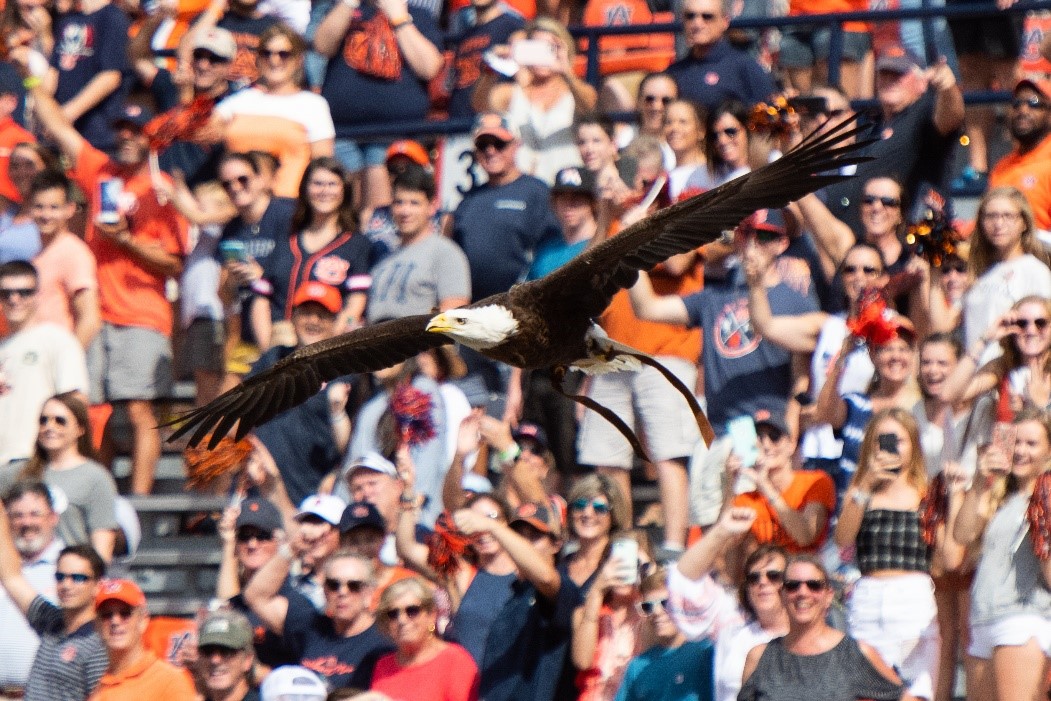 Until her retirement during the 2021 season, Spirit was the only bald eagle to have ever flown in Jordan-Hare Stadium. Her first pregame flight was in 2002, kicking-off an almost 20-year tenure.
In 1995, Spirit was discovered as an injured fledgling in Florida. She came to Auburn in 1998 and joined the educational collection at the Raptor Center. Her damaged beak makes her non-releasable. Since Spirit is a Bald Eagle and not a Golden Eagle, she will never hold the official War Eagle title, however she was named an Honorary War Eagle upon her retirement in October, 2021. Bald Eagle Independence, or Indy for short, began stadium flights in 2021 upon Spirit's retirement.
Aurea, War Eagle VIII, made her debut flight at the Liberty game on November 17, 2018. She is a Golden Eagle who was found in Alabama in 2016 with a fractured wing that did not heal correctly, making her non-releasable.
The role of Auburn University's eagles is to promote wildlife conservation as a part of the education initiatives of the U.S. Fish & Wildlife Service (USFWS) and the College of Veterinary Medicine's Raptor Center. The USFWS permits the Raptor Center to house eagles and use them on hundreds of educational presentations each year — including these captivating flights which are now deeply rooted in Auburn tradition and an integral part of our education mission. If you are interested in discussing an eagle flight for an event, please contact the Auburn University Raptor Center to discuss the details.
Contact