Southeastern Raptor Center
Educational Programs
Our education team travels and conducts educational programs throughout the Southeast in order to promote an awareness and appreciation for birds of prey. In addition, clients can schedule a private tour of the SRC or schedule a presentation at the on-site outdoor amphitheater. Each year, the center conducts around 300 public and private educational events to teach the public about raptor conservation, habitats, and ecology. Through these programs, approximately 25,000 people are educated by the center each year.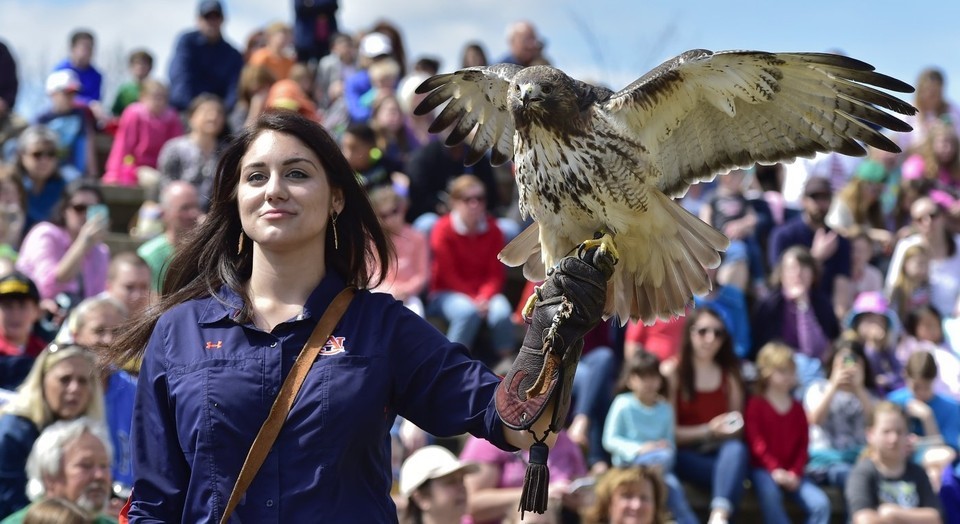 Outreach
We present to schools, day cares, businesses, retirement homes, and a variety of other clients. Our goal is to provide informative, personalized raptor presentations and we are happy to tailor one to meet your needs! Each of our presentations allow the audience to experience live raptors up-close while learning about their natural history and vital ecological roles. These presentations offer an unparalleled experience designed to enthrall audiences of all ages! Presentations feature a selection of our raptor ambassadors and may include owls, falcons, hawks, kites, vultures, and eagles. These raptor ambassadors have all been deemed non-releasable and permanently reside at the center.
On-Site Presentations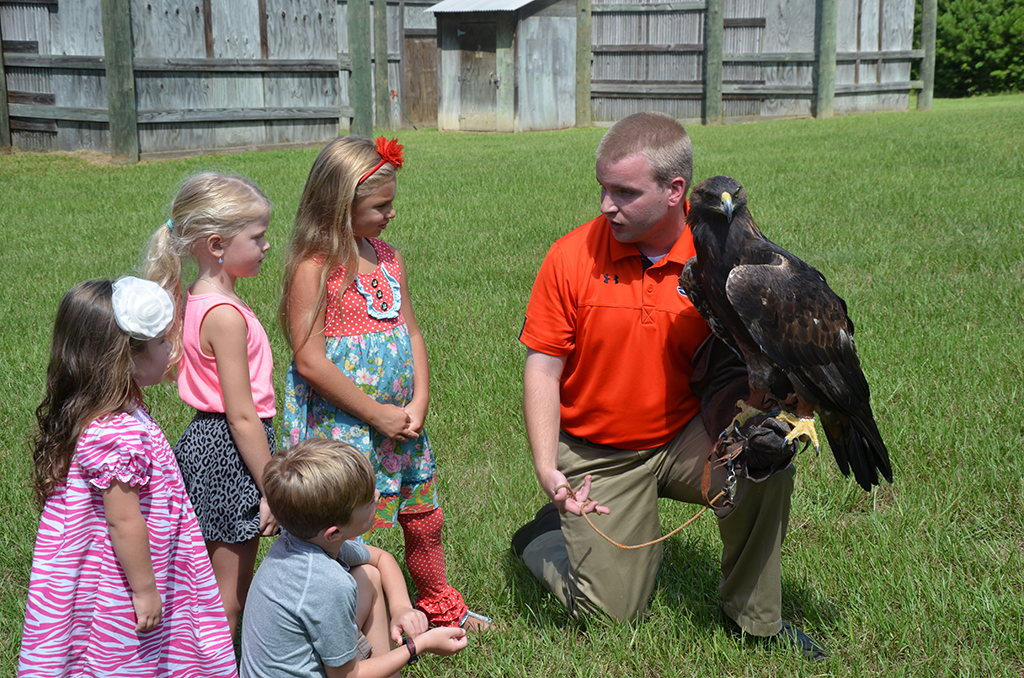 Thanks to the generous support of Alabama Power, we are pleased to offer the Alabama Power Educational Initiative! The Alabama Power Educational Initiative is an outdoor tour of the Southeastern Raptor Center's education department. Guests are treated to a guided outdoor walk around the enclosures of the center's raptor ambassadors, allowing a close-up look at each of these birds while also learning interesting facts about them. This tour lasts approximately one hour, and can be booked for groups of 25 or less.
For larger groups, we offer the option of a formal presentation at our outdoor amphitheater. This option allows guests to be seated and watch as a variety of raptors are presented individually while facts are discussed about each one. Typically, seven raptors, including an eagle, are brought to an amphitheater show and it lasts approximately one hour.
The Southeastern Raptor Center is a non-profit organization and we do charge a fee to cover expenses and to aid in our education and conservation efforts. For more information or to arrange a program, call us at the number on the right or fill out our Raptor Program Request Form.
Eagle Flight
For more than 100 years, eagles have been associated with Auburn University's football program. From a static presence on the sidelines to rousing flights over the field, War Eagle has become an Auburn icon. Eagles stir emotions in many people as they have come to symbolize strength, power, and courage as well as other important values such as freedom, American heritage, and the preservation of our environment.
The role of Auburn University's eagles is to promote wildlife conservation as a part of the education initiatives of the U.S. Fish & Wildlife Service and the College of Veterinary Medicine's Southeastern Raptor Center. The USF&WS permits the Raptor Center to house eagles and use them on hundreds of educational presentations each year — including Auburn's home football games.
Currently, the SRC is home to three eagles that have flown in Jordan-Hare Stadium before an Auburn football game. Those eagles are Nova – War Eagle VII, Spirit, and Aurea. 
Although not titled War Eagle VII until November 2006, Nova's first pre-game flight was at the Kentucky game in 2004. Nova was hatched in 1999 at the Montgomery Zoo and came to Auburn in 2000. As of 2017- Nova was suspended from flight activities due to a diagnosis of a heart condition – cardiomyopathy.  Although not participating in flight activities, Nova is still the current War Eagle and helps with educational presentations across the Southeast.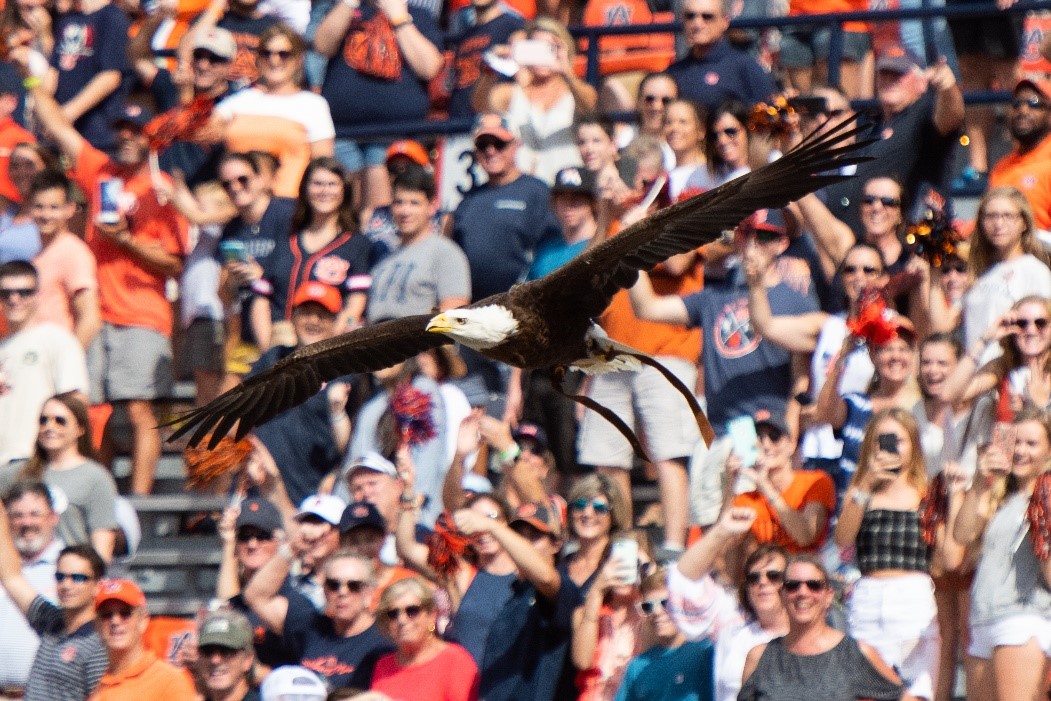 Spirit is the only bald eagle that has ever flown in Jordan-Hare Stadium. Her first game flight was in 2002. In 1995, Spirit was discovered as an injured fledgling in Florida. She came to Auburn in 1998 and joined the educational collection at the Raptor Center. Her damaged beak makes her non-releasable. Since Spirit is a Bald Eagle and not a Golden Eagle, she will never hold the "War Eagle" title.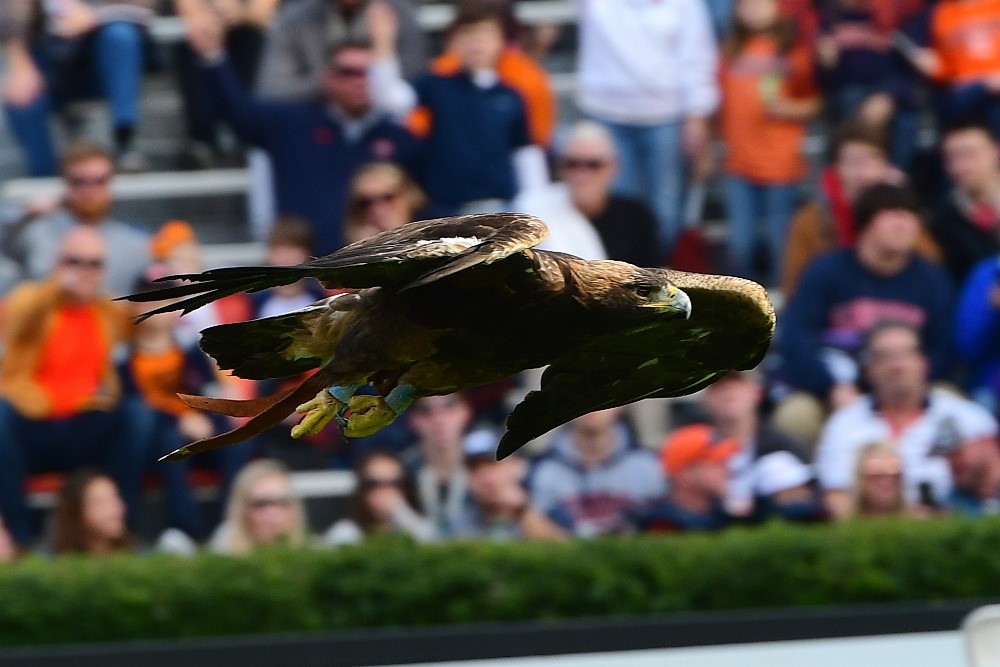 Aurea came to the center in 2016 after being found near Selma, Alabama with an injury to her right wing.  Unfortunately, the aftermath of the injury left her permanently unable to regain normal flight stamina and she was deemed non-releasable. Aurea's first stadium flight was on November 17, 2018 prior to the Auburn vs. Liberty game. She was officially named War Eagle VIII on November 22, 2019. Aurea has a 6.5-foot wingspan and weighs 7.7 pounds. As the third War Eagle to reside at the Southeastern Raptor Center, she serves not only as a symbol of the Auburn spirit, but also as an ambassador for her species.
Independence, or Indy for short, came to the center in 2018 from a Florida rehabilitation center where she was admitted as a baby with a wing injury. Although her wing healed, she imprinted on people during her time in rehab and therefore, is non-releasable.  She now serves as one of our ambassadors and helps us educate thousands of people about the importance of raptors. She made her debut flight on September 4, 2021 prior to the Auburn vs. Akron game. Indy weighs around 7 pounds and has a roughly 6-foot wingspan.