Raptor Rehabilitation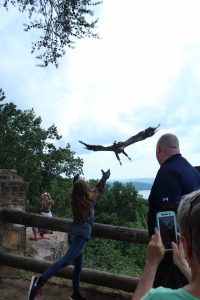 The mission of the rehabilitation unit of the Auburn University Raptor Center is to rehabilitate injured, orphaned, or ill wild raptors. This includes hawks, owls, eagles, falcons, kites and vultures that are all native to the area. The center typically admits 250 or more raptors annually. Please DO NOT remove any raptor from its habitat unless it is obviously injured or ill. Our first priority as a rehabilitation facility is to prevent raptors that do not require intervention from being removed from the wild. Call and speak with us or state wildlife officials for advice if you are not certain. What do I do if I find an injured raptor?
Our goal is to return raptors to the wild after being rehabilitated and offer a hands-on experience for volunteers and veterinary students. Raptors are generally brought by members of the public, a network of Southeastern rehabilitators and educational facilities, as well as state and federal agencies.
The rehabilitation unit admits all native, wild raptors that are injured, orphaned, or ill. Since the Auburn University Raptor Center is designed specifically to care for birds of prey, it is not able to accept any other type of bird. View a current list of non-raptor bird rehabilitators.
Please call us at (334) 844-6347 if you have any questions about what to do if you find an injured raptor.
Check on the status of a bird.
Contact
Seth Oster, DVM
Associate Professor, Avian and Exotics
Telephone: (334) 844-6347
Email: ostersc@auburn.edu
Amberly Sokoloff, DVM
Veterinarian
Telephone: (334) 844-8513
Email: ams0344@auburn.edu
Stephanie Kadletz
Assistant Director, Raptor Rehabilitation
Telephone: (334) 844-6347
Email: sak0050@auburn.edu
Bryant Tarr
Raptor Specialist
Telephone: (334) 844-6347
Email: dbt0015@auburn.edu