Auburn University Research Initiative in Cancer
---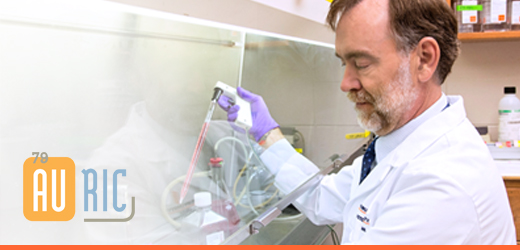 AURIC
---
AURIC is Cancer Research.
Founded January 1, 2012, AURIC provides a unified structure to promote the many outstanding cancer researchers and research projects underway at Auburn University, and to foster collaboration with our partners across the state of Alabama, the Southeast, the United States and the world. We invite you to explore these web pages to learn more about AURIC, the work AURIC researchers are doing and ways that you can participate.
Cancer is a major health concern for Alabamians. In Alabama alone, more than 23,000 new cases of cancer were diagnosed and more than 10,000 people died of the disease in 2010 (Alabama Dept. of Public Health).
AURIC is human medicine, animal medicine, research and diagnostics where faculty, students, and staff are working together to solve the complex puzzle of cancer. AURIC is based within the Auburn University College of Veterinary Medicine, but AURIC is everywhere, from the laboratory to the clinic.