Perhaps no other area of the Auburn University College of Veterinary Medicine embodies the One Health concept quite as effectively as the Scott-Ritchey Research Center, a state-of-the-art, interdepartmental and interdisciplinary molecular medicine research program focused on next-generation therapies to treat and even cure diseases in both humans and animals. The center's mission is to conduct groundbreaking basic and translational research to improve the health of companion animals and to facilitate their application.
Four distinct areas make up the core of the center's research efforts: neurologic & genetic diseases, companion animal contraception, feline obesity and cancer therapeutics. In each area, world class faculty and researchers lead teams seeking to find innovative new ways to address illness and disease affecting both animal and human health. Scott-Ritchey has a proud record of notable successes. One recent example is the development of a gene therapy to produce enzymes missing in GM1 gangliosidosis and Tay-Sachs — rare, neurodegenerative diseases found in cats and other animals, as well as people.
Other cutting-edge work is underway in areas such as: the characterization of genetic mutations; genetic testing and development of gene-based therapies for muscular dystrophies and inherited metabolic brain diseases similar to Tay-Sachs; the development of contraceptive vaccines; and the formulation of gene-based therapies for dementia, rabies and cancer. In addition, the center houses cutting-edge equipment currently available at no other veterinary program in the nation. All these efforts make Scott-Ritchey one of the leading research centers in the world for companion animal health.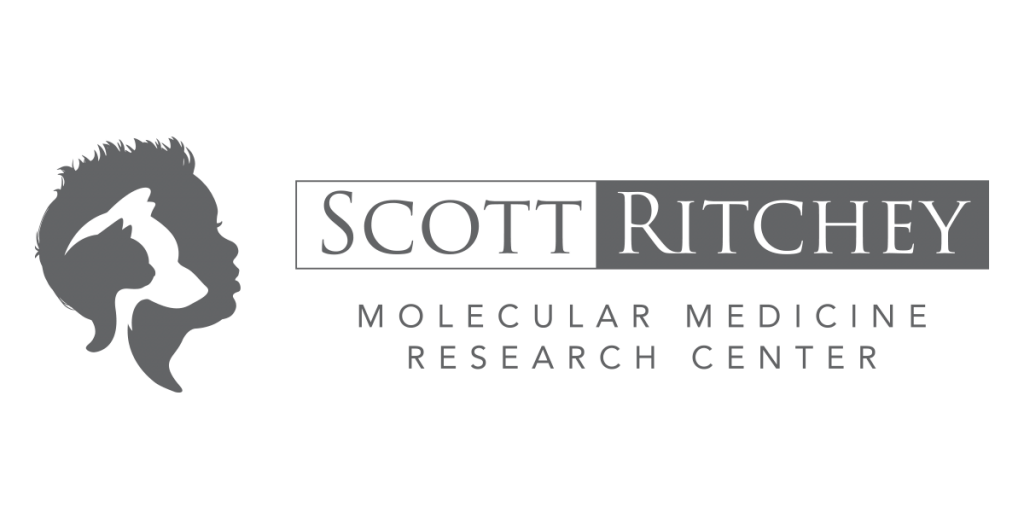 History
The organization presently known as the Scott-Ritchey Research Center is the result of the vision of Dr. B.F. "Frank" Hoerlein, professor and chairman of Small Animal Surgery and Medicine. Dr. Hoerlein was committed to research for the advancement of companion animal health, but lacked the financial support and facilities needed for this important work.
In 1955, Kenneth A. Scott, an avid field-trial dog competitor, offered to contribute money to support Dr. Hoerlein's research using a matching formula, which gave Dr. Hoerlein the essential start needed to build a viable research program. Donations to the Scott Fund were solicited from graduates of the Auburn University College of Veterinary Medicine, usually in the form of memorials for their clients' animals. Dr. Ivan Frederickson, a veterinarian in Fort Lauderdale, Florida, approached one of his clients, Eleanor Ritchey, and suggested that she consider donating to the Scott Fund. Ritchey was well-known for her love of animals and, in particular, dogs. However, she did not respond immediately to Dr. Frederickson's suggestion. Following her death in 1968, it was revealed that she had committed her entire estate to create a much-expanded version of the beginnings supported by the Scott Fund. The Ritchey bequest provided a stable endowment and was used to construct a 42,000 square foot research building in 1984. The endowment provided sufficient income to support a full-time research faculty and technical staff. Based on this endowment, the Scott-Ritchey Research Laboratory was established with Dr. Hoerlein as its first director.
Dr. Hoerlein's personal research interests and that of the early faculty focused on neurological diseases of dogs and cats. Over the years, under the leadership of subsequent directors Dr. Steve Swaim and Dr. Henry Baker, research topics have included molecular medicine, infectious diseases, inherited diseases, nutrition, reconstructive surgery and other topics. In 1992, the name was changed to the Scott-Ritchey Research Center to identify it as an interdepartmental, multi-disciplinary unit within the College of Veterinary Medicine. Today, center scientists conduct research and collaborate with other faculty at the College of Veterinary Medicine, Auburn University and institutions worldwide on projects focused on companion animal health. Research conducted by center scientists has been supported by the National Institutes of Health (NIH), the Kemper Fund, the AVMA Foundation, the Mathers Foundation, Michelson Grants/Found Animals Foundation, National Tay-Sachs and Allied Diseases Association, the Morris Animal Foundation and other private and commercial entities.
Since its inception, the center has been a pace-setter for research devoted to improving the health of companion animals. Ms. Ritchey took a bold step and unfortunately was ridiculed by some in the press who characterized the project as "millions gone to the dogs". But for those who have enjoyed the unconditional love and companionship of a pet dog or cat, the true legacy of Ritchey's fateful decision is understood clearly and appreciated.
Dr. Hoerlein's dedication and skill as a teacher, clinician and scientist and his tremendous accomplishments in small animal medicine, as well as those who have followed in his footsteps, would never have been achieved without the understanding and generosity of Scott and Ritchey. Together, these three visionaries created a remarkable molecular medicine research center which continues to serve the objectives about which each of them felt so strongly. If you would like to build on the legacy left by Dr. Hoerlein, Mr. Scott and Ms. Ritchey, please consider supporting the center's research programs.
Giving
You can support the Scott-Ritchey Research Center by making a direct gift to the center, or to the Scott Fund or Swaim Fund for Excellence. The Scott Fund offers practitioners the opportunity to make a gift in memory of a client's pet to support vital companion animal research at Auburn through a competitive grant program. The Swaim Fund for Excellence provides an endowment to fund wound management — continuing the vital work of former Scott-Ritchey director Dr. Steven F. Swaim.
Learn more about giving to the center through the College of Veterinary Medicine's Advancement team giving website or contact them directly at giving@vetmed.auburn.edu or (334) 844-1446.
Contact