2021 – 2026 Strategic Plan
Building on our past success, we will grow the college's impact, image and identity through bold steps and measurable progress to improve life for humans and animals and protect the environment.
In 2020, a task force comprised of a cross-section of Auburn Vet Med community members was formed and charged with developing priorities and metrics to guide the college's strategic direction throughout the next five years. Additional expertise and input were sought, challenges and opportunities were considered, listening sessions and meetings were held and survey feedback was gathered from myriad sources as the process unfolded.
And from these tireless deliberations, consistent themes emerged across the collected data, which laid the foundation for our strategic plan.
Echoing the most common elements defined by our stakeholders, our vision for the next five years came to life recognizing that we must focus on acknowledging and expanding our strengths, developing our leaders, enhancing quality of life and inclusivity, driving recognition both nationally and internationally and investing heavily in our promising future.
A flexible, living document was built, outlining how we will track and report key performance indicators, strengthen our reputation broadly and invest our resources strategically.
What follows is our collective commitment to achieve these goals.
Because together…
we are unstoppable.

---
Aligning who we are with where we are going.
Our Mission
The mission of the college is to prepare individuals for careers of excellence in veterinary medicine, including private and public practice, industrial medicine, academics and research. The college will provide programs of instruction, research, outreach and service that are in the best interests of the citizens of the state of Alabama, the region, the nation and the world.
Our Values
The most important aspects of our college are the core values that strengthen and guide our culture. They drive us to succeed and provide the essential connections that shape the Auburn Vet Med community.
Core Values
Excellence
Leadership
Efficiency
Collegiality
Inclusivity
Diversity
Compassion
Collaboration
Accountability
Our Goals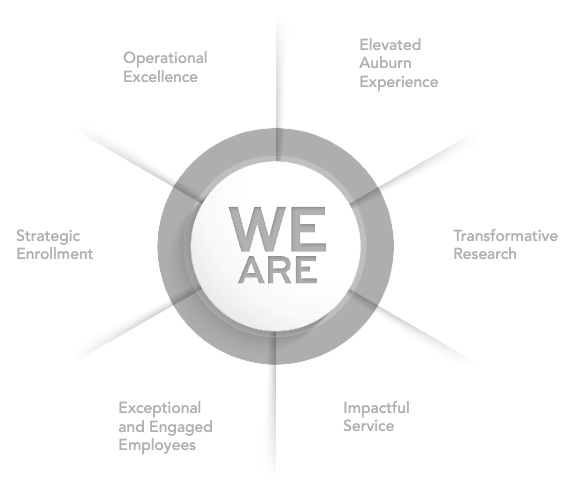 ---
---
We always strive to be better — to improve ourselves and our college.
It may seem a tedious process, but if the last several years have shown us anything, it is the critical importance of achieving excellence in everything we do. We understand the One Health concept is real, and that the learning, innovation and can-do spirit exhibited in our halls every single day matter — not just for the success and prosperity of our college, but for the well-being and betterment of our entire interconnected world.
It is this realization that adds renewed urgency to our efforts and drives us to perform to the very best of our abilities for the success of our college. Within the framework of this plan, we have designed a map to guide our steps in our commitment to achieving these six overarching goals.
Through these commitments, we acknowledge that what we do today defines our history and designs our future. We support each other. We challenge each other. We applaud success and remind each other that not succeeding only opens more doors to opportunity. We are more than colleagues, teachers, classmates, alumni and friends.
It takes all of us working closely together to achieve our ambitious goals. Through our combined commitment, we ensure the Auburn College of Veterinary Medicine remains synonymous with excellence worldwide. And at our core…
we are connected in our devotion.