Portly Pet Presents Unusual Teaching and Learning Opportunity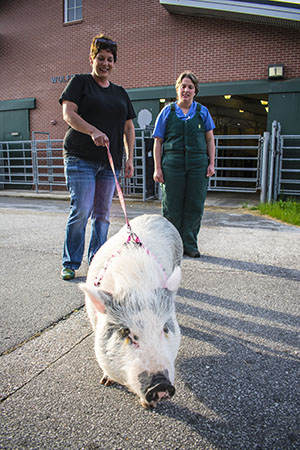 "If you give a pig a pancake, she'll want some maple syrup to go with it…," begins a popular children's book by Laura Numeroff and Felicia Bond. In the case of "Bacon," it is her affinity for Honey Buns that may have been the culprit.
Bacon, a pet mini pig owned by Kathy and Dennis Lewis of Phenix City, was brought to the Auburn University College of Veterinary Medicine for a medical examination, vaccinations – and – dental work. Specifically, Bacon had her teeth cleaned.
Bacon was admitted through the J.T. Vaughan Large Animal Teaching Hospital, just as any livestock/farm animal would be, according to her case manager, Dr. Jenna Stockler, a resident in the Farm Animal Service.
"It is not unusual for us to treat pigs," Dr. Stockler said. "We see a mix of patients that are both pets and livestock species. A pet pig will undergo the same type of medical assessment and examination process as a farm pig would."
The unusualness regarding Bacon, was the owner's request for a complete dental check and cleaning procedure.
"In my 45 years of practicing and teaching veterinary medicine, this is the first time I have been called on to provide a complete dental on a pet pig," said Dr. Robert Lofton, an assistant professor of the Department of Clinical Sciences who provides treatment to animals and clinical education to senior-level students in the college's Auburn University Veterinary Clinic.
But the unusual request provided a unique opportunity for veterinary professionals, educators, students and pet owners alike, to practice and learn something necessary but not often experienced.
Exotics and traditional livestock animals have become more popular in recent years as pets, Dr. Lofton said. Livestock/farm animals kept as pets and regularly seen as patients at the college include not only pigs, but also cattle, goats, sheep and camelids, Dr. Stockler adds.
"We commonly perform dental examinations on pigs because of inappetence (loss of appetite), failure to gain weight, or suspected dental disease, but Bacon was our first pig to be presented for a dental cleaning," she said.
The Lewis' acquired Bacon five years ago. "We got her when she was three weeks old," said Kathy Lewis. "She is exceptionally smart, easy to train, and she gets along well with our two dogs."
Mrs. Lewis adds that Bacon was house trained much like a cat or dog. Thus, the pig is allowed to spend time both indoors and out.
"Pigs are clean animals if they are kept that way, and they are as smart and as trainable as dogs are," Mrs. Lewis said. "Bacon likes playing and getting her belly rubbed. She enjoys camping, going for a swim – and – Honey Buns."
That sweet tooth is the prime suspect that brought Bacon to the CVM for dental work. That process presented a special set of challenges.
Animals often undergo sedation during examinations for a variety of reasons. For a complete dental cleaning, however, general anesthesia is necessary.
Dr. Stockler's team of five veterinary students and Food Animal Specialist Levi Gideons examined Bacon, vaccinated her, and administered general anesthesia prior to transferring her from the Vaughan Large Animal Teaching Hospital to community practice facility for her dental procedure.
"Pigs do not like being restrained or handled," said Dr. Hui-Chu Lin, professor and large animal anesthesiologist with the Department of Clinical Sciences. "They resist by struggling and squealing very loudly."
There are other challenges. "Every species has its own unique anatomy," Dr. Lin said. "A pig has a very large, thick neck, so administering anesthetics into the vein is not very easy to do. We have to inject the medicine directly into its muscle. And although a pig has a lot of fat tissue, its body temperature drops quickly when placed under anesthesia. Therefore, we have to continually monitor its body temperature and vital signs very closely during the procedure."
Unlike dogs, pigs cannot open their mouths very wide, and pigs generally are not willing to calmly sit while undergoing an oral medical examination or procedure.
"Being placed under anesthesia is necessary for the pig's comfort as well as to enable the medical personnel to conduct their work," Dr. Lofton said.
Bacon underwent her examination and dental procedure without complications and was discharged to return to her grateful owners. Kathy Lewis said she hopes that Bacon's experience helps to increase awareness among people who keep traditional livestock animals and exotics as pets about their unique health concerns and needs.
"Those kinds of animals need to be cared for as seriously as does a dog or cat," she said. "I hope this experience helps to increase that kind of awareness among those pet owners."
In addition to vaccination against important respiratory and reproductive diseases, pet pigs may require additional vaccinations such as rabies, according to CVM veterinarians. Important husbandry procedures include tusk and hoof trimming, weight management and routine wellness exams.
So, according to Kathy Lewis, no more Honey Buns for Bacon. It is back to salads and a nutritional, sugar-free diet for this portly pet.
-30-
The College of Veterinary Medicine is the South's oldest and nation's seventh oldest veterinary medical program, celebrating 125 years. We prepare individuals for careers of excellence in veterinary medicine, including private and public practice, industrial medicine, academics, and research. The college provides programs of instruction, research, outreach, and service that are in the best interests of the citizens of the state of Alabama, the region, the nation, and the world.
Mitch Emmons (emmonmb@auburn.edu)