Avian and Exotic Service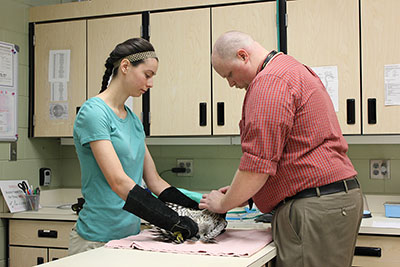 The Wilford & Kate Bailey Small Animal Teaching Hospital, through the Auburn University Veterinary Clinic, offers an Exotic Service. Veterinary clinicians and senior-level veterinary students, in conjunction with specialty services throughout the hospital, offer wellness care, diagnostics, medical/surgical treatments, and emergency care for companion exotic animals.
Types of Patients Accepted
Birds
Companion
Permitted Raptors
Poultry
Non-Venomous Reptiles
Geckos
Lizards
Snakes
Turtles/Tortoises
Exotic Mammals
Chinchillas
Hedgehogs
Ferrets
Rabbits
Gerbils
Sugar Gliders
Hamsters
Please call our front desk staff, at (334) 844-9966, to ask about other pet and permitted wildlife species we may see.
Appointments
The Exotic Service sees appointments Monday – Friday, 9:30 a.m. – 11:00 a.m. Please call our front desk staff to schedule an appointment for your pet. If your pet has previously been seen by another veterinarian, please have these records emailed to us at avian@vetmed.auburn.edu.
Meet the Team
Marcia Gannon provides nursing care for the exotics service. She has been with the service since its inception. Marcia's background includes medicine in primarily sea turtle and marine mammals, exotics, and raptors. Marcia is a member of The Association of Avian Veterinarians, Association of Exotic Mammal Veterinarians, and the Association of Reptile and Amphibian Veterinarians.